Cool Stuff: Tyler Stout's 'The Avengers' Poster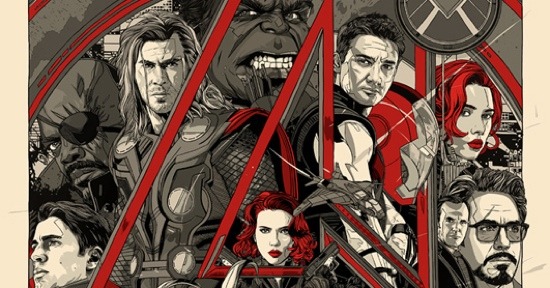 Over the past couple weeks, we've posted all of the character-focused one-sheets in Mondo's Avengers poster print collection. That is, all of the posters leading up to the grand finale, a one-sheet by master poster artist Tyler Stout. Today Mondo unveiled the last and final poster, which will be sure to be the envy of all comic book fanatics. Hit the jump to see the poster in regular and variant editions.
Both posters are 24"x36" nine-color screen prints. Hand numbered. The regular edition is of 750 and is $60, variant is of 250 and priced at $110. Printed by D&L Screenprinting.
Posters will go on sale on Friday May 4th at a random time, with a limit of 1 poster per person (you will not be allowed to purchase both versions of the regular or the variant). The prints will sell out quick, so be sure to follow MondoNews on twitter to see the announce (and get to it because you'll only have a couple minutes to complete your order before they're gone.