Universal Wants Submissions For 'Snow White And The Huntsman' Pop-Up Art Gallery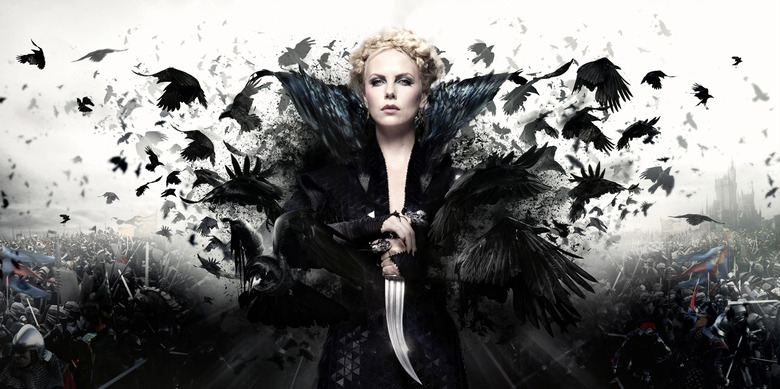 If the fairy tale-inspired Snow White and the Huntsman has, in turn, inspired you, Universal Pictures wants to see the fruits of your creativity. The studio is calling for artists to submit their work, which can be in any medium. The ten best pieces will then be displayed from May 19 through June 3 in a pop-up gallery on Los Angeles' Melrose Avenue, alongside art from "a prominent L.A. artist" and Snow White and the Huntsman costumes from Oscar-winning designer Colleen Atwood.
We've posted a lot of fan-made movie tributes here at /Film, from minimalist posters to video homages to Lego dioramas, so if you've ever looked at any of those and felt the itch to create something of your own, this could be a good opportunity to share it with the world. But with just a week and a half until the May 11 submission deadline, you'd better get to work ASAP if you want to be considered. Hurry up and hit the jump for details.
Artists Selected to Participate in the Exclusive Event Will Have Work on Display Alongside Costumes from the Film's Three-Time Academy Award®-Winning Costume Designer, Colleen Atwood
Entries Due by May 11, 2012
UNIVERSAL CITY, Calif., May 2, 2012 /PRNewswire/ — Universal Pictures announced today a call for artists to submit artwork inspired by the upcoming film Snow White and the Huntsman. The submissions must be received by 11:59 p.m. PDT on May 11, and they will be showcased in a pop-up gallery located on the internationally renowned Melrose Avenue in Los Angeles. Artwork will be on display alongside works from a prominent L.A. artist and costumes from the film's three-time Academy Award®-winning costume designer, Colleen Atwood, from May 19 through June 3. The epic action-adventure starring Kristen Stewart, Oscar® winner Charlize Theron and Chris Hemsworth arrives in theaters on June 1.
The challenge is open to all artists working in all mediums. A photo of the work (in .jpg format, no larger than 3 MB) must be submitted to SWATH.ART@nbcuni.com by the deadline, along with contact information including full name and phone number, and a short paragraph describing the motivation for the work. The artist may also include his or her resume along with the entry. Original artwork should be no larger than 3 ft. by 3 ft. Up to 10 works of art will be chosen for the exhibition, and selected artists will be announced on May 14 at 6:00 p.m. PDT.
In order to participate, each artist must be 18 years of age or older. All artwork must be original, must be able to be shipped, and be display ready. Artwork must not include any recognizable likenesses of the film's talent. Artists retain ownership rights of their artwork, but they may not reproduce the artwork or likeness for commercial gain. For more information, please contact SWATH.ART@nbcuni.com.
Yes, it is rather unfortunate that most of the artists who want to participate in the challenge won't get a chance to actually watch Snow White and the Huntsman before they put brush to canvas (or hand to clay, or eyeball to viewfinder, or whatever), since the film isn't due to open til June 1. But if you want to take a look at what's been released from the film so far, look to our Snow White and the Huntsman archive for TV spots, trailers, posters, stills, and more.
[Source: PR Newswire]