Exclusive: 'Brave' Character Descriptions And Images Of King Fergus And Queen Elinor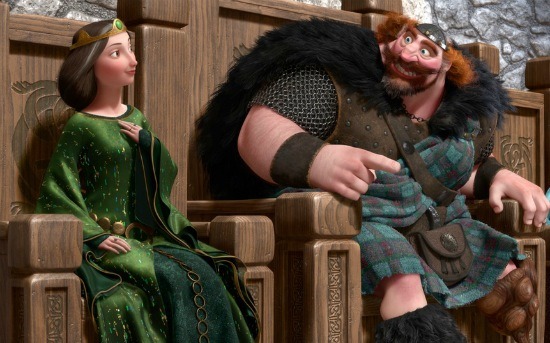 You've seen them in trailers, clips, images and now /Film is proud to exclusively introduce you to the King and Queen of Disney/Pixar's 2012 release, Brave: King Fergus and Queen Elinor. So, Fergus and Elinor, meet the online film community. Online film community, meet King Fergus and Queen Elinor.
Voiced by Billy Connolly and Emma Thompson respectively, the King and Queen are incredibly important to Brave as they represent the opposing views inside the main character Merida, a saucy Princess who wishes to be more outgoing and physical like her father, but is forced to try and be more prim and proper, like her mother. Those relationships are a key component in the film and, after the jump, you can see some brand new images of both characters as well as read their official biographies.
Here are our exclusive images of Fergus and Elinor. The portraits (with the colored backgrounds) were doing in 2009 by production designer Steve Pilchner. The character poses are their final looks in the film. All are high-res, so feel free to blow up to your heart's content.
Over the next few weeks, several sites are going to reveal a bunch of other characters from the June 22 release so keep an eye out for that.
Here's the biography of King Fergus, voiced by Billy Connolly:
King Fergus is a heroic warrior with a majestic bear cape, broad sword and a knobby peg leg – the result of his much-regaled skirmish with the demon bear Mor'du. His vendetta against the beast who took his leg makes Fergus a ferocious and determined bear hunter, evidenced by a home full of mounted trophies of every size. Protector of his kingdom and family, Fergus has a heart as big as his triplet sons are mischievous and boundless love for his wife, Queen Elinor. But his pride for his first-born daughter Merida is unmatched, and he has gifted her his great skill and passion for the sword and the bow.
And here's the bio of Queen Elinor, voiced by Emma Thompson:
A vision of grace, wisdom and strength of character, Queen Elinor is fiercely dedicated to the well being of her family and kingdom. As the measured, diplomatic counterpoint to her more impulsive husband, King Fergus, Elinor carries the weight of the kingdom on her shoulders in order to maintain the fragile peace between the volatile clans. Elinor strives to instill in Merida the knowledge and manner of a royal, expecting complete commitment to Elinor's standards. But her vision of her daughter's future is at odds with Merida's rebellious spirit and desire to forge her own path, which ultimately causes Elinor to face calamitous consequences.
We'll have much more on Brave over the coming weeks but, for now, click here to read all of our previous coverage. It opens June 22.