Sci-Fi Sequels: 'Men In Black 3' Chase Scene And Rick Baker's Great Alien Designs; 'Star Trek' Sequel Films At Government Lab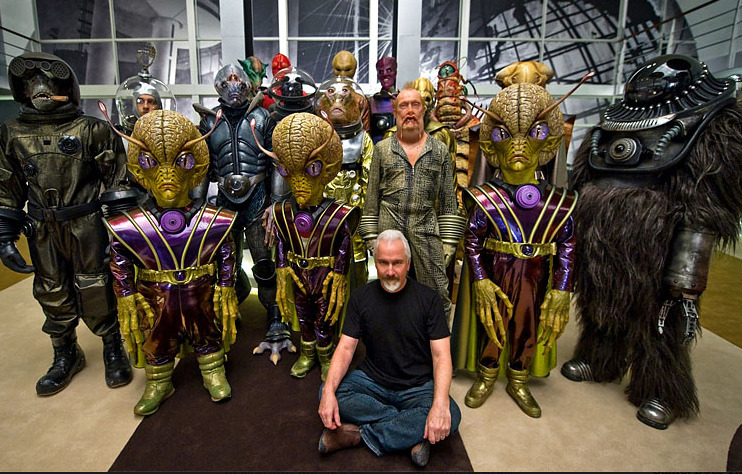 With Men in Black 3 screening this week for early press, and the film opening on May 25, there are a few items related to the movie showing up now. So after the break, we've got two MIB clips, a bunch of great photos of the alien designs created by Rick Baker, and a pretty amusing reference that shows up in the film. Plus, just because we're on the sci-fi angle, there's a bit of incidental detail about the now-shooting Star Trek sequel.
Here are the first two clips from Men in Black 3. The chase scene is via Yahoo, the other via YouTube. Both suggest that the general tone from the first two movies is once again in effect, and show off the film's mix of practical effects and CGI.
Update: here's a third clip from Metacafe:
But wait, doesn't that cycle from Men in Black look familiar? It does to quite a few people including CinemaBlend, which pointed out that this is a near-exact copy of something seen on South Park way back in 2001, during Season 5. The episode parodying the revelation of the Segway featured IT, a cycle design that required some very....specific controls. Viz:
And speaking of practical effects, there is a batch of great photos showing off the work legendary effects guru Rick Baker did for MIB3. io9 has a bunch of shots of the master at work, and of his creations. These do more to make me want to see the film than most of the footage I've seen so far. Here are some of the results of his handiwork:
Finally, looks like the Star Trek sequel J.J. Abrams has been directing for the last couple months will shoot this week at the locked-down Lawrence LIvermore Laboratory, according to the Mercury News, via Before the Trailer.
The primary info we've got is this:
The segments are being filmed in the lab's National Ignition Facility, or NIF, said Dale Kaye, president of the Livermore Valley Chamber of Commerce and a Livermore Valley film commissioner. The NIF building can fit three football fields and is where scientists are using ultraviolet laser light from the world's largest laser to produce thermonuclear ignition at temperatures and densities similar to those in the sun.