Sequel Bits: Michelle Rodriguez Returns For 'Machete Kills,' Vin Diesel Teases More 'Riddick,' Plus 'Wrong Turn 5', 'Treasure Island 2'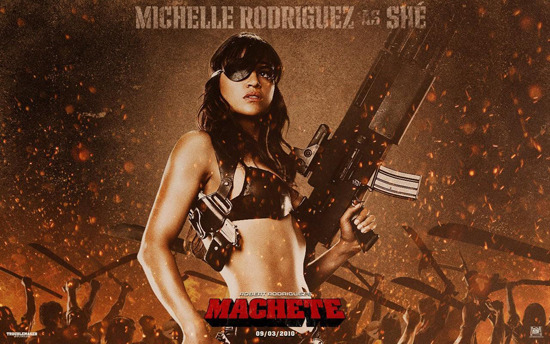 There's a lot of sequel casting and development to report today, and so after the break you'll find:
Michelle Rodriguez will return for Machete Kills and Fast and Furious 6
Vin Diesel is teasing further Riddick sequel news
Steve Coogan is cast in Despicable Me 2
Eddie Izzard suggests there could be more Treasure Island in his future
Eva Green talks about her role in the 300 prequel
Wrong Turn 5 begins shooting
The return to Michelle Rodriguez to the Fast and the Furious franchise was teased at the end of the fifth film, and now Variety has confirmed that she has a part in both the sixth Fast and the Furious movie, as well as in Robert Rodriguez's upcoming Machete Kills. Variety offers some new plot info on Machete Kills, though nothing about how her character fits in:
"Machete Kills," which starts production this month in Texas, finds the titular ex-federale (Danny Trejo) recruited by the U.S. government to stop a terrorist named Mendez the Madman, who happens to be Mexico's leading cartel dealer. Mel Gibson is set to co-star as Luther Voz, a cunning arms dealer and death merchant who aims to spread war across the planet by launching a missile. Jessica Alba is also expected to return for the sequel, which will be distributed by 20th Century Fox.
Vin Diesel and David Twohy just wrapped Riddick, the third film in the series that began with Pitch Black and continued with The Chronicles of Riddick. Now, on Facebook, Diesel says the film will hit in 2013, but also suggests that further sequels could happen. After they got this one made on pure willpower, I'm ready to believe him. Here's his update:
The studio said the earliest they could release the new "Riddick" is in January... was hoping for 2012... but, it's on the horizon. P.S. I think they are liking what they are seeing... haha, cause they asked when both Underverse and Furya would be ready to make and release... haha... now that's a ways in the future but it is exciting.
Here's the plot of Riddick:
The infamous Riddick has been left for dead on a sun-scorched planet that appears to be lifeless. Soon, however, he finds himself fighting for survival against alien predators more lethal than any human he's encountered. The only way off is for Riddick to activate an emergency beacon and alert mercenaries who rapidly descend to the planet in search of their bounty. The first ship to arrive carries a new breed of merc, more lethal and violent, while the second is captained by a man whose pursuit of Riddick is more personal. With time running out and a storm on the horizon that no one could survive, his hunters won't leave the planet without Riddick's head as their trophy.
The latest addition to the voice cast of Universal and Illumination Entertainment's Despicable Me 2 is Steve Coogan. We don't know what character he'll voice, but he joins the returning voice cast that includes Steve Carell, Russell Brand, and Miranda Cosgrove. Also voicing characters are Al Pacino, playing the new villain, and Kristen Wiig, playing a different role from the one she voiced in the original. Chris Renaud and Pierre Coffin return to direct. [THR]
In a gigantic, really quite excellent interview with Collider, Eddie Izzard talks at length about playing Long John Silver in the new four-hour UK television version of Treasure Island. He calls the film "the Godfather of pirate movies," and it features Elijah Wood as Ben Gunn and Donald Sutherland as Flint, with Toby Regbo, Rupert Penry-Jones, Shirley Henderson and Nina Sosanya.
The interview got me quite interested in seeing the full project, and evidently there is a possible follow-up on the table. Izzard says of that,
We're already talking about Treasure Island 2. It's a dangerous thing to do a follow up to a classic. You can fall flat on your face. But, we would like to do one, so we will see how that progresses. I do believe that there was TV series that actually only happened in Australia, but that was about John Silver and his continuing exploits. I think it does actually have legs, so I would like to do another one.
Eva Green is cast as Artemisia in the 300 prequel 300: Battle of Artemisia, and she tells MTV,
She's a very ballsy character, she's almost like a man, so that's fun. It's my first action film, it's going to be a challenge, [there will be] lots of training.
Finally, production has begun on Wrong Turn 5, aka the latest film in the surprisingly long-running, mostly direct to DVD series. Declan O'Brien, who wrote and directed the last two films in the series, takes on those duties once again. The film is shooting in Bulgaria, and the plot goes like this:
In the next chilling chapter of Wrong Turn, a small West Virginia town is hosting the legendary Mountain Man Festival on Halloween, where throngs of costumed partygoers gather for a wild night of music and mischief. But an inbred family of hillbilly cannibals kill all the fun when they trick and treat themselves to a group of visiting college students who are dying for a good time.