New 'TRON: Uprising' Trailer Revealed; Show Premieres June 7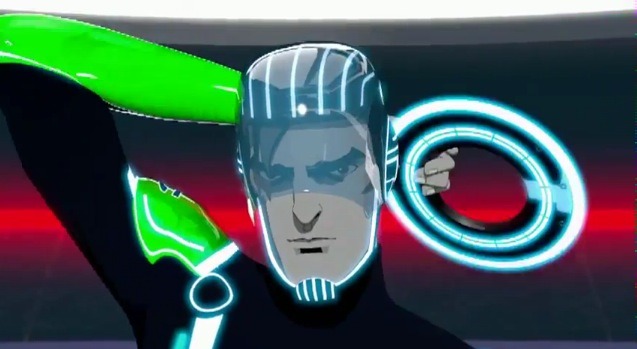 Being one of the few people who enjoyed TRON: Legacy, maybe I'm not the best person to say this but Disney XD's TRON: Uprising looks incredibly promising. The animated show, set between the events of the original film and its recent sequel, has been brewing for years with tiny glimpses dripping out here and there. Now, a brand new trailer blows the doors wide open revealing not only the final look, but the main characters and central conflict.
TRON: Uprising, featuring the voices of Elijah Wood, Emmanuelle Chriqui, Mandy Moore, Paul Reubens, Nate Corddry, Lance Henriksen and Tron himself Bruce Boxleitner will premiere on Disney XD June 7. It'll be preceeded by a prequel special called Tron: Uprising – Beck's Beginning on May 18. Learn more about that, and check out the new trailer, after the jump.
Entertainment Weekly revealed the premiere dates as well as the following trailer:
They also revealed the description of the May 18 prequel show Beck's Beginning, Beck being the lead character above voiced by Elijah Wood:
TRON: Uprising, Beck's Beginning, introduces a Beck, a young mechanic living in Argon City, a growing metropolis in a far off corner of the grid that has just been occupied by General Tesler, a henchman of the notorious Clu. After his best friend Bodhi is ruthlessly derezzed by Clu's army, Beck seeks justice for his lost friend and launches a crusade against the regime.  His rebellion captures the attention of Tron, the greatest warrior The Grid has ever known, who sees the potential in Beck and trains him to be his successor. Labeled with the moniker of The Renegade, Beck sparks a revolution to fight for the freedom of The Grid.
Here's the main issue I see with TRON: Uprising. The voice cast is great, it's being created by passionate people and I'm loving the anime look. However, since this is set before the events of TRON: Legacy, we know that Beck does not succeed. Clu is still running The Grid in the film. Justice is not served. Unless Disney decides to go with the down ending of Beck dying, the inevitability is a little hard to ignore.
On the other hand, if TRON: Uprising is a success, there's no reason it can't run for several seasons and maybe Clu is defeated. He is a program, after all. Programs can be rebuilt. We'll have to wait and see.
What do you think of the new trailer for TRON: Uprising? Will you be checking this out?