'Sin Nombre' Director Will Make 'True Detective' Series For HBO, With Woody Harrelson And Matthew McConaughey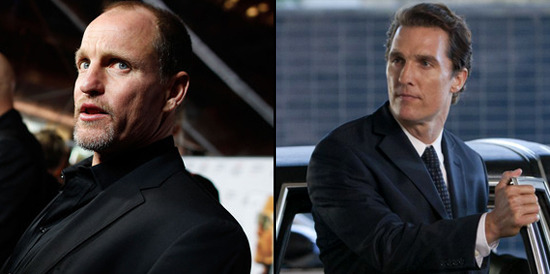 Cary Fukunaga impressed us with his first two features, Sin Nombre and his version of Jane Eyre, and he has been looking at interesting follow-up projects that include a Civil War heist film, and a sci-fi thriller for Universal. But it looks like his next project will be an eight-episode 'event series' called True Detective, starring Woody Harrelson and Matthew McConaughey as a pair of cops on a seventeen-year hunt for a Louisiana serial killer.
HBO has just picked up the show with a straight to series order, and Fukunaga will direct all eight episodes.
Deadline says the Nic Pizzolatto-scripted series is about,
Rust Cohle (McConaughey) and Martin Hart (Harrelson), whose lives collide and entwine during a seventeen-year hunt for a serial killer in Louisiana. The investigation of a bizarre murder in 1995 is framed and interlaced with testimony from the detectives in 2012, when the case has been reopened.
This first season won't necessarily be a stand-alone deal, but the True Detective name could end up being an overall brand rather than something linked specifically to the characters played by Harrelson and McConaughey. The first season will wrap up the story — this won't be The Killing, or Twin Peaks, where audiences are asked to let the investigation fade to the background, or take more than one season worth of time, with later seasons to follow a new investigation with new characters.
True Detective is gearing up to shoot quickly, so we could start seeing images and footage by the summer.