Superhero Bits: The Amazing Spider-Man, The Avengers, Robot Chicken, X-Men, Batman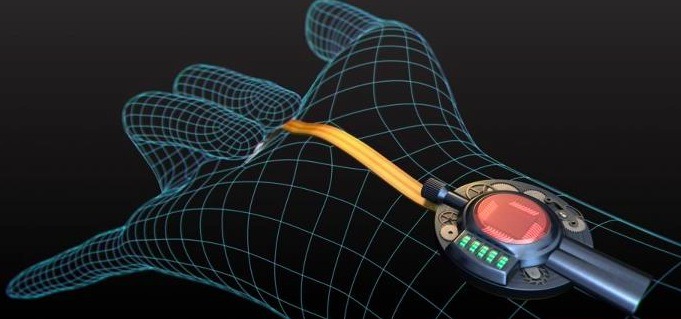 Want to learn all about the inner workings of the webshooters in The Amazing Spider-Man? When does Kevin Feige think Black Widow will return to the Marvel universe? Have people broken down the latest Dark Knight Rises trailer? How does Thor return to Earth in The Avengers? Which stars are providing their voices to the DC themed Robot Chicken episode? Has someone created a Marvel Universe drinking game? And will Mark Ruffalo reveal the details of a deleted scene from The Avengers? Read about all of this and more in today's Superhero Bits.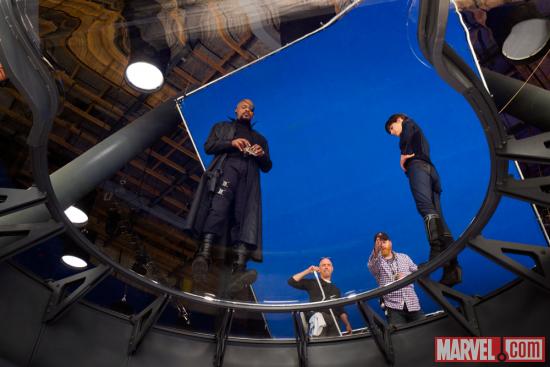 Marvel.com posted this cool, exclusive Avengers behind the scenes image.
Lots of Avengers primers are popping up. Here's one from Cinemablend, the 10 things you need to be aware of before seeing the film.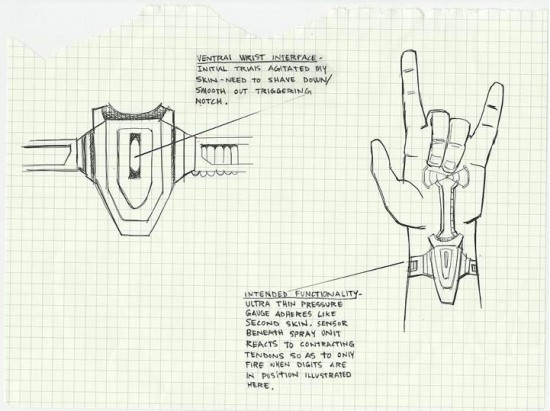 The Amazing Spider-Man Facebook (via Daily Blam) has posted a huge gallery detailing the webshooters in the film.Superhero Hype has taken hi-res screencaps of the Dark Knight Rises trailer.
Joss Whedon gives a little commentary with this clip from The Avengers from Yahoo Movies.Indiewire does their best to dissect the new Dark Knight Rises trailer.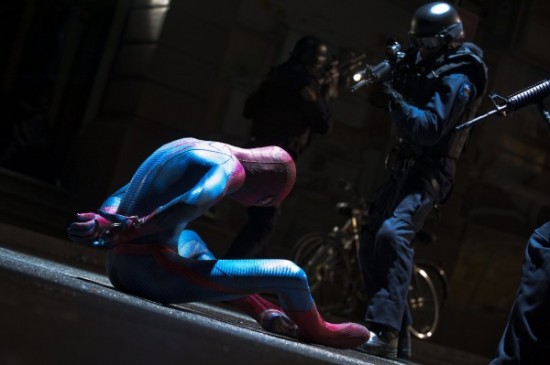 Apple.com has posted a few new images from The Amazing Spider-Man. This is just one.
Another Avengers primer. Movies.com writes about ten essential comic book stories to read before the film.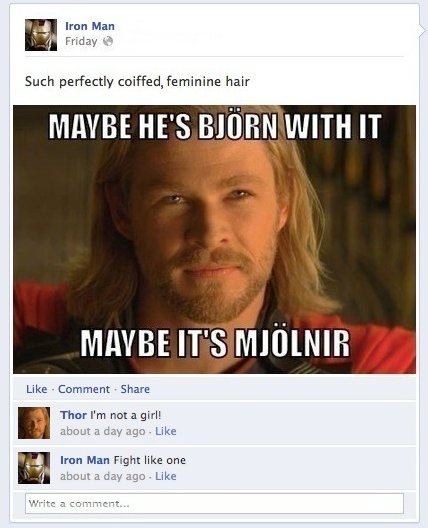 Funny or Die did a funny Avengers Facebook Timeline. This is just a small sample.
The voice cast for the DC Comics Robot Chicken special has been announced at Hollywood Reporter: Seth Green as Batman, Robin and Aquaman; Paul Reubens as the Riddler; Neil Patrick Harris as Two-Face; Alfred Molina as Lex Luthor; Nathan Fillion as the Green Lantern; Megan Fox as Lois Lane; and Breckin Meyer as Superman. It airs this Fall.
Due to the amount of graphics and images included in Superhero Bits, we have to split this post over THREE pages. Click the link above to continue to the second page of Superhero Bits.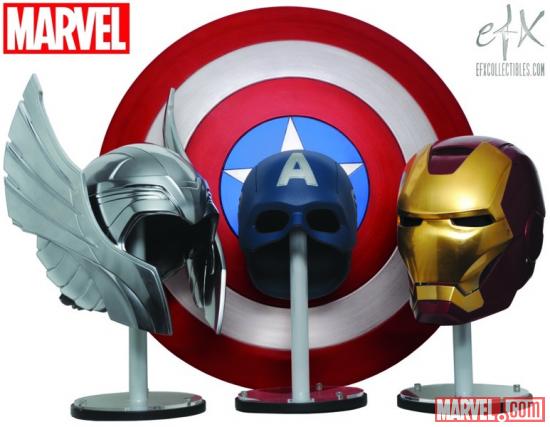 You can preorder EFX's Avengers collectibles now at Marvel.com.
Talking to Movieline, Kevin Feige confirmed Black Widow's future is all but certain in the Marvel Universe:
We have already planned her next appearances and where to take that character because we believe in it and we believe in her in a big, big way. When will there be a standalone? Both is what we're heading toward. A lot of it is that we're only going to make two moviesa year, maybe sometimes it'll be one movie a year like this year, maybe someday it'll be three movies a year just depending on what comes together. But really, it's two movies. So there's kind of a backup on the runway right now in terms of when can something go. We do like when some of the characters appear in other people's movies.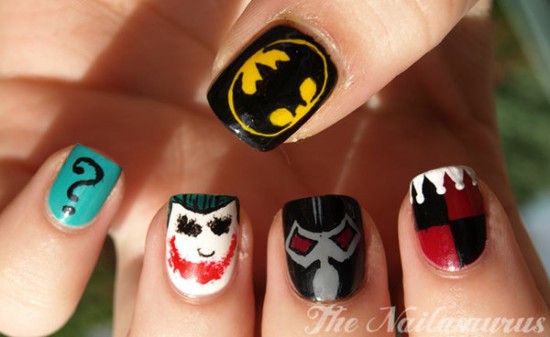 Really nice Batman nails from The Nailasaurus via Fashionably Geek.
Slate has a funny article about how a press screening of The Avengers got delayed because someone deleted the digital file.The Avengers are waiting for a bus in this video found on Geeks are Sexy.Colantotte is selling the bracelet Tony Stark wears in The Avengers.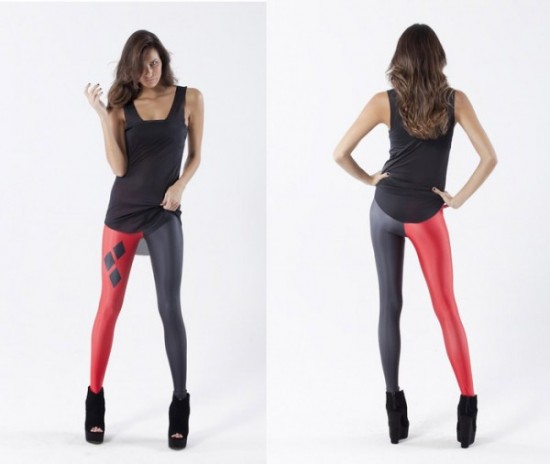 Harley Quinn leggings are awesome. Especially on this girl. Thanks to Black Milk Clothing via Fashionably Geek.
Could anyone else play Iron Man besides Robert Downey Jr.? ScreenCrush has a few ideas.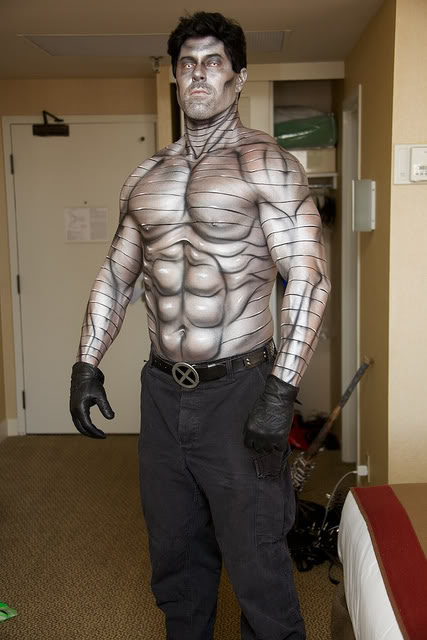 Cosplay Overload (via Fashionably Geek) features this Colossus cosplay.Superhero Stuff has full size Avengers cardboard cutouts to frighten your neighbors with.
Due to the amount of graphics and images included in Superhero Bits, we have to split this post over THREE pages. Click the link above to continue to the third page of Superhero Bits.
This clip from Super Best Friends Forever features Superman fighting Supergirl. Thanks to Super Punch.
Film School Rejects has created rules for a universal Marvel movie drinking game.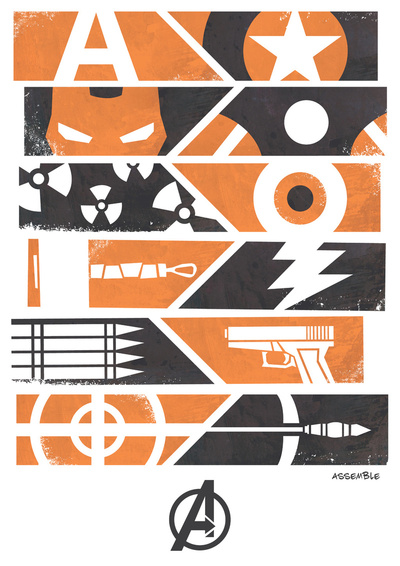 Nice minimalist Avengers poster by Fidgt from Society 6.
ScreenCrush doesn't think a new Hulk movie is a good idea.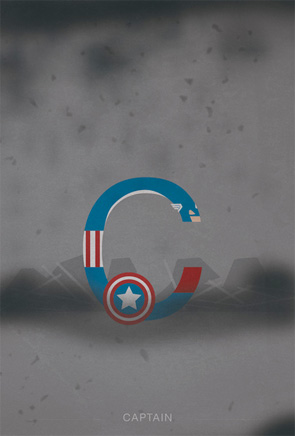 René Mambembe made superhero posters based on Helvetica font. That's just one above. Head to Behance via First Showing for more.Marvel.com reports that several of their movies are influencing fashion in Australia.
In this interview with Collider, Mark Ruffalo confirms he signed a six picture deal and discusses a deleted scene from The Avengers.
Comic Book Movie has an exclusive interview with the stunt coordinator of The Avengers.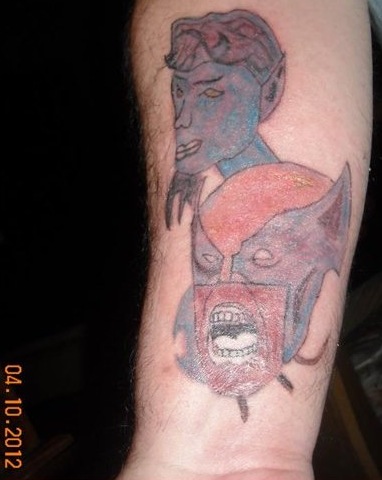 This made me spit out my coffee. An awful X-Men tattoo via Ugliest Tattoos and Fashionably Geek.
MTV reveals five reasons why you should watch Stan Lee's documentary, With Great Power: The Stan Lee Story.
Get More: Movie Trailers, Movies Blog
Bookmark this one for after you see The Avengers (thought it's not really a big spoiler). Tom Hiddleston explains to MTV how Thor came back to Earth for the film after the events in Thor.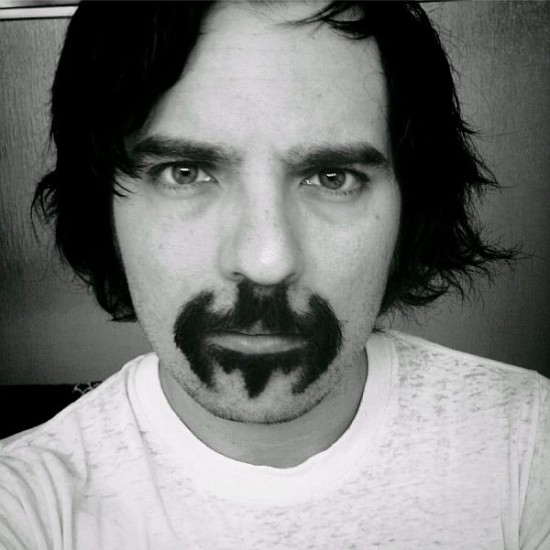 Contrary to popular belief, this Bat-Stach on Reddit (via Geeks are Sexy) is not our very own Russ Fischer.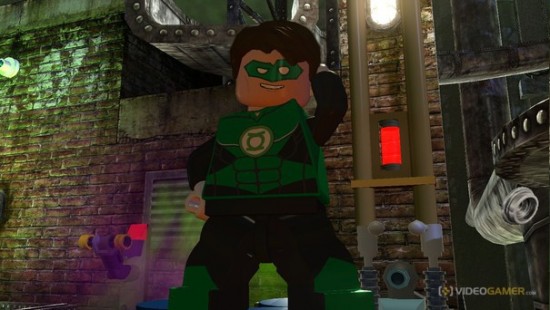 VideoGamer (via CBM) has posted a few new images from the upcoming Lego Batman game.
The May 6 episode of Disney XD's Ultimate Spider-Man features The Hulk. Read more at Yahoo (via CBM).