New Images From Rian Johnson's 'Looper'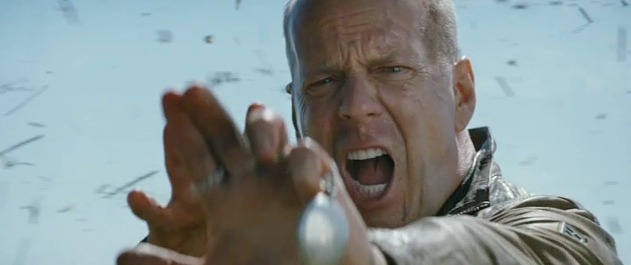 Rian Johnson's Looper, the time-travel thriller in which Joseph Gordon-Levitt and Bruce Willis play younger and older versions of the same hitman, is still my most anticipated film of 2012. And so I haven't even watched the teaser trailer that debuted a couple weeks back, nor even the little preview clips released to announce the teaser. I'd like to go in as cold as possible; after reading some of the early screening reviews last year I figure I know enough already.
But checking out a few stills is probably safe enough. And so here are new images from Looper, featuring one of the first looks at the character played by Emily Blunt, as well as a couple new angles on JGL in full Bruce Willis prosthetic mode. Check out a small gallery below.
Looper opens on September 28. It also stars Paul Dano, Noah Segan, Piper Perabo and Jeff Daniels. You can also check out the trailer with director commentary, and we debuted the very nice poster for the film.
In the futuristic action thriller Looper, time travel will be invented – but it will be illegal and only available on the black market. When the mob wants to get rid of someone, they will send their target 30 years into the past, where a "looper" – a hired gun, like Joe (Joseph Gordon-Levitt) – is waiting to mop up. Joe is getting rich and life is good... until the day the mob decides to "close the loop," sending back Joe's future self (Bruce Willis) for assassination. The film is written and directed by Rian Johnson and also stars Emily Blunt, Paul Dano, and Jeff Daniels.