Apple In Talks With Three Major Movie Studios For Apple TV And Rumored Apple HDTV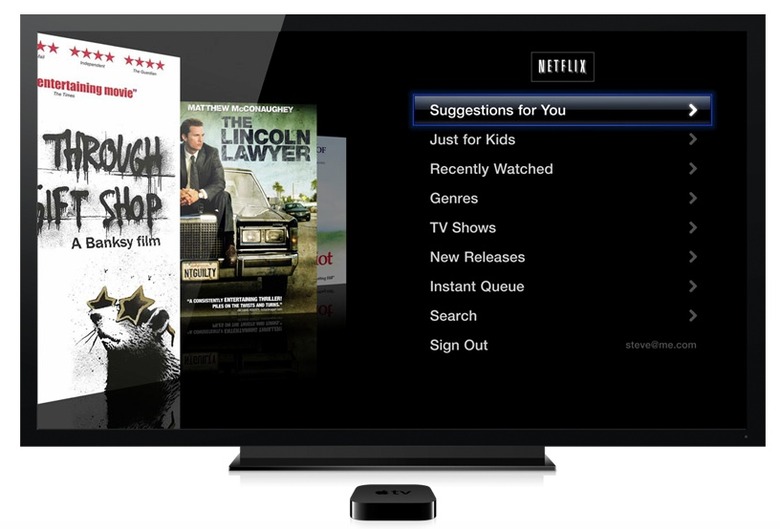 As excited as Apple fans get for new iPhones and iPads, their next big bit of excitement surrounds a rumored Apple HD television. The device, would could be revealed as early as later this year, is expected to revolutionize the viewing experience just as the iPod did with listening and iPhone did with phone use.
Apple already has Apple TV, the affordable piece of hardware that allows users to stream all kinds of content from the Internet to televisions and this new device would likely be an all-in-one device, kind of like a massive iPad. Now a new rumor is circling that Apple is in talks with EPIX, a company owned by LionsGate, MGM and Paramount (the three studios of the headline), to stream content exclusively on Apple TV as well as any other upcoming Apple device that might stream content, which suggests this new TV. Read more after the jump.
Reuters (via Gizmodo) reports Apple's talks with EPIX have just begun but they've been trying to acquire high end movie content for several months to no avail. That makes sense as Netflix, Amazon and others have deals in place with various content providers and Apple is just now getting into the arena. A deal with EPIX would mark a major step toward some blockbuster Hollywood content being available only on Apple devices.
EPIX content is currently available on Netflix, but that $200 million per year deal expires in September. Netflix is keen on renewing though and, if that happens, Apple will likely be left out in the cold.
Here's the question though. If and when Apple releases the iTV or whatever it'll be called, with the content be the most important thing? As long as it allows users access to all of their current outlets – Netflix, Amazon, Hulu, etc. – with a bunch of innovative Apple features/interface options, won't that be enough? Exclusive content would obviously sweeten the deal but, ultimately, seems unnecessary. Do you agree?