'Hick' Red-Band Trailer - Chloe Grace Moretz, Blake Lively, And Eddie Redmayne Step Into White-Trash Stereotypes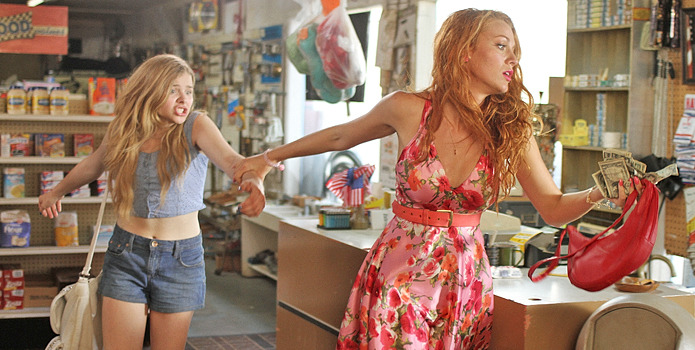 Plenty of young talents have attempted the leap from precocious child star to grown-up actor, with severely mixed results, but Chloe Grace Moretz seems to be having an easier time of it than most. Though she's just 15, she's already shown a facility for between family-friendly fare like Hugo and more mature entertainments like Let Me In and Kick-Ass over the last few years, and she's lucky enough to have (apparently) skipped an awkward phase altogether. As far as I'm concerned, she doesn't need to "prove" that she can transition into mature parts.
But that appears to be exactly what she's doing in Derick Martini's Hick. Moretz plays a teenager who decides to ditch her neglectful parents in Nebraska and strike out for Vegas, meeting all sorts of interesting characters (played by Blake Lively, Eddie Redmayne, Rory Culkin, and Alec Baldwin) along the way. Watch the red-band (i.e., NSFW) trailer after the jump.
[via The Playlist]
I'll give Hick credit for going much darker than I thought it would. The characters that she comes across are genuinely threatening, not just odd or quirky, and there's a sense here that she's in real danger. This could be a coming-of-age tale with grit.
However, this trailer looks like kind of a mess, and last year's Toronto Film Festival reviews bear that impression out. Collider gave it an F, noting that the film "has no idea what it's doing," while THR likened it to "the worst country song imaginable" in movie form. But as always, your mileage may vary — so if the above trailer piqued your curiosity, you can catch the film when it gets a VOD and theatrical release on May 11.
Small town teenager Luli (CHLOË GRACE MORETZ) escapes to Las Vegas, leaving behind her alcoholic and abusive parents. Armed with her smarts, a pistol and pocket money, she hitchhikes her way west. Along the way, Luli crosses paths with Eddie (EDDIE REDMAYNE), an unstable rebel with questionable motives and Glenda (BLAKE LIVELY), a cocaine-snorting drifter on the run. Adapted from the critically acclaimed novel by Andrea Portes, this powerful story pulls you into a provocative world of drugs, seduction and murder.