'Hope Springs' Trailer - Meryl Streep And Tommy Lee Jones Turn To A Former 40-Year-Old Virgin For Sex Advice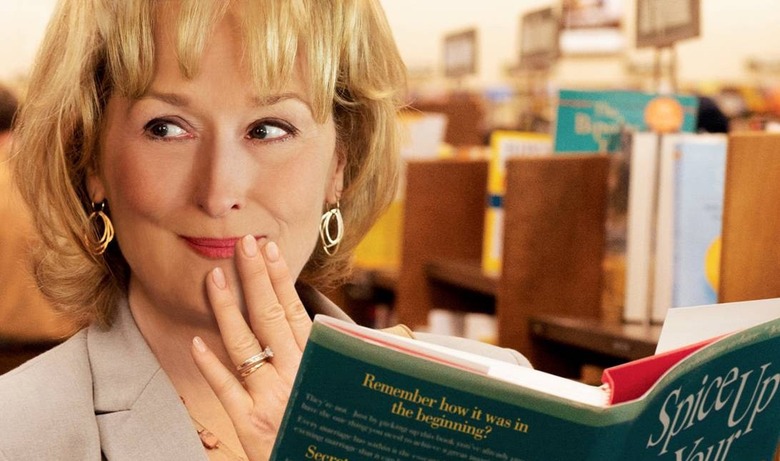 Steve Carell's first really big starring role came in The 40-Year-Old Virgin, but he's playing a man much more experienced in matters of the heart and body for the new Hope Springs (formerly titled Great Hope Springs). As a respected relationship therapist, he dishes advice to a couple (Meryl Streep and Tommy Lee Jones) growing bored of their decades-long marriage. Watch the new trailer after the jump.
[via Moviefone]
It's not the most original premise in the world, but I suspect that Hope Springs will attract the same crowd that turns out for Nancy Meyers films. Adding to the appeal is the top-notch cast: Carell, Streep, and Jones aren't just talented but effortlessly likable, which goes a very long way in a lightweight romcom like this one.
Then there's the Oscar connection. The director of Hope Springs is David Frankel, who previously guided Streep's Academy Award-nominated turn in The Devil Wears Prada. True, this film doesn't really look like Oscar material, but neither did that one. Maybe you'd better check out Hope Springs just in case.
Hope Springs hits August 10, making it an ideal mom-friendly palate cleanser between viewings of The Bourne Legacy and The Expendables 2.
Kay (Meryl Streep) and Arnold (Tommy Lee Jones) are a devoted couple, but decades of marriage have left Kay wanting to spice things up and reconnect with her husband. When she hears of a renowned couple's specialist (Steve Carell) in the small town of Great Hope Springs, she attempts to persuade her skeptical husband, a steadfast man of routine, to get on a plane for a week of marriage therapy. Just convincing the stubborn Arnold to go on the retreat is hard enough – the real challenge for both of them comes as they shed their bedroom hang-ups and try to re-ignite the spark that caused them to fall for each other in the first place.