Effects-Heavy 3D '47 Ronin' Pushed From Fall 2012 To February 2013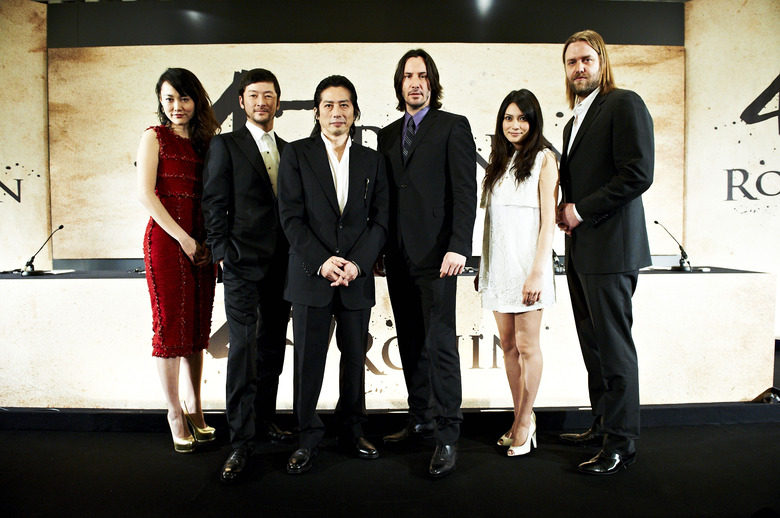 Once slated for mid-November this year, the new 3D version of the classic samurai story 47 Ronin will have to wait for February 2013 to play for audiences. Universal has pushed the film back to February 8, 2013, without citing any specific reason. (As is usually the case with date changes.) The new opening date places it against the Nicholas Sparks film Safe Haven, and a week before A Good Day to Die Hard.
Carl Erik Rinsch directed the film as his debut feature, with Keanu Reeves starring, and earlier this year reports surface of a production that didn't entirely go well. THR reported sources saying that it was a "a tense, combative shoot," and that Universal was considering additional reshoots to streamline the film a bit before the November release.
THR's source says that Rincsh declined to use a seasoned second unit director, preferring instead to take on all chores himself. The source has some direct quotes about Rinsch "hijacking" the movie, but they're out of context enough that it's difficult to know whether they're true, or simply an attack on Rinsch.
Regardless, the film is now pushed back, and if reshoots were necessary (as they often are on any big film, no matter how went the production went) then the February date will help the process.
For context, Reeves described the film a while back:
It's in 3D. It's kind of a western. I call it a story of revenge and impossible love. The samurai become ronin, outcast, and decide to enact revenge on the person who is responsible for the death of their lord. And I play an outsider, a kind of half-breed with a mysterious past named Kai, who's in love with the princess and she's in love with me, but we can't be together. But during this journey and revenge, things change.
Hiroyuki Sanada, Kou Shibasaki, Tadanobu Asano and Rinko Kikuchi all play in the movie, as well. Chris Morgan and Hossein Amini wrote. Atticus Ross will score. [THR]