'Hotel Transylvania' Teaser Trailer - Genndy Tartakovsky Turns Adam Sandler Into A Vampire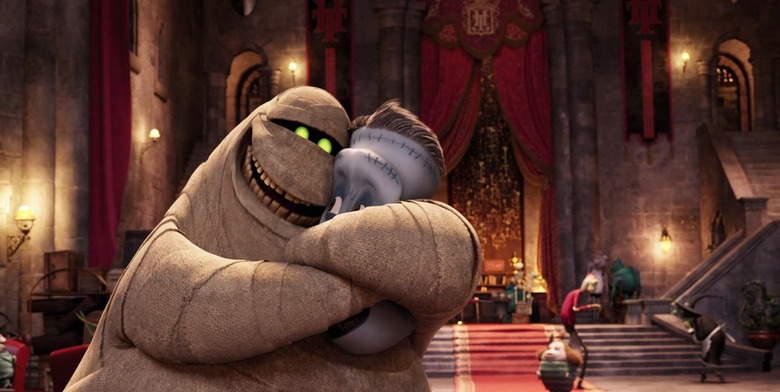 Though Genndy Tartakovsky has been a force in TV animation since the mid-'90s, it's only now that he's finally making the jump to features with Hotel Transylvania. It's clear that the new film has more of a traditional look than most of his shows have had, but there are some nice visual flourishes that should please fans of his previous work.
Adam Sandler voices Dracula, the proprietor of a luxury resort for monsters like Frankenstein (Kevin James), The Invisible Man (David Spade), the Mummy (Cee-Lo Green), and more. The trouble starts when a young human man (Adam Samberg) accidentally stumbles across the establishment, then meets and falls for Dracula's daughter Mavis (Selena Gomez). While the new teaser hits many of the same beats that we saw in the first teaser last month, there's enough new footage to be work a quick look.
[via AICN]
There's really no doubt that Hotel Transylvania is aimed at kids, but it looks perfectly harmless for adults as well. The characters seem cute and likeable, the humor is totally innocuous, and the visuals look rich and appealing. I particularly loved some of the early glimpses of Bigfoot and the giant spiders making their way to the hotel, which appear to be more in line with Tartakovsky's usual style.
Hotel Transylvania opens September 21.
Welcome to the Hotel Transylvania, Dracula's (Adam Sandler) lavish five-stake resort, where monsters and their families can live it up, free to be the monsters they are without humans to bother them. On one special weekend, Dracula has invited some of the world's most famous monsters – Frankenstein and his bride, the Mummy, the Invisible Man, a family of werewolves, and more – to celebrate his daughter Mavis's 118th birthday. For Drac, catering to all of these legendary monsters is no problem – but his world could come crashing down when one ordinary guy stumbles on the hotel and takes a shine to Mavis.