Syfy Adapting Stephen King's 'The Eyes Of The Dragon;' 'The Adjustment Bureau' And 'Booster Gold' Also In Development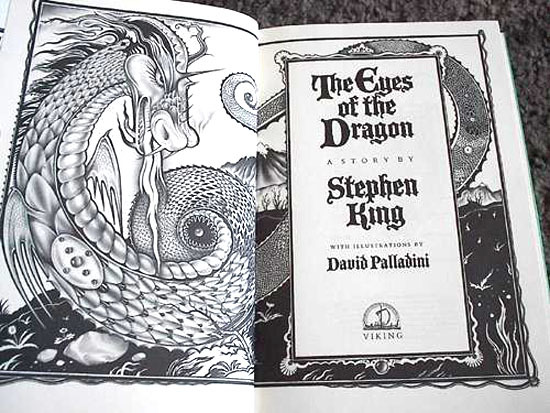 There are more Stephen King film and TV adaptations than most people could count — only the most die-hard fan or serious film and TV trainspotter would be likely to remember them all. But there is a small subset of King's fiction that has remained largely untapped: fantasy.
The author doesn't have a lot of books that fit into the fantasy column. The Dark Tower series is primary among them, and then there is the Peter Straub collaboration The Talisman, in which a young boy makes a cross-country journey by flipping back and forth between our world and a parallel fantasy one.
Those are big books, and have resisted adaptation so far. (The Dark Tower might make it to screens soon.) One of King's other fantasy efforts is more slight, and perhaps more suited for adaptation: The Eyes of the Dragon, a fairy tale he originally created for his daughter, and eventually published in 1987. If Syfy has its way, the book could end up on screens soon.
Michael Taylor (Defiance, Battlestar Galactica) and Jeff Vintar (I, Robot) are writing the project, with Michael Taylor and Bill Haber exec producing. It could be a film or mini-series, and there is little doubt that the success of Game of Thrones has something to do with the effort.
The Eyes of the Dragon features characters and a world that are tied to the Dark Tower books, so it is unclear as to whether those characters will be altered, or if they'll be able to remain as they are in the book. Here's the general outline:
Eyes details the crusade of Peter and Thomas, two princely brothers, to destroy the 400-year-old Flagg, the evil magician who threatens to control the kingdom of Delain after the death of their father, King Roland, who remained unwed until he was past 50. Flagg has imprisoned Peter, the heir apparent, on suspicion of murdering the king (actually it was Flagg who did it) and installed the profligate second son, an easier mark, on the throne. Surprisingly, Eyes is a gentle story, despite violence, gore and his standard vulgarity, because King has ingeniously interposed himself between reader and narrative as if he were telling the tale aloud, with a soothing cadence practically audible in the evocative prose.
In addition to that, there are a couple other Syfy development projects worth noting, via Deadline:
The Adjustment Bureau – In this drama, based on the hit movie starring Matt Damon, guardian angel-type agents work to keep the world according to The Plan. They create everything from plane crashes to coffee spills in order to steer people to realize their true destiny. But there is one thing the operatives and their Chairman can't control — free will. Writers: Todd Slavkin & Darren Swimmer (Melrose Place, Smallville). Executive producers: George Nolfi (The Adjustment Bureau, The Bourne Ultimatum), MRC, Slavkin and Swimmer. A production of Universal Cable Productions.
Untitled Booster Gold Project – Based on the best-selling DC Entertainment Comic, this is the story of a washed-up athlete from the future who travels back to the present in hopes of becoming the greatest superhero of all time. But instead of chasing criminals, his main priority is chasing fame and money. Booster Gold discovers that being a hero takes more than just a megawatt smile. Writer: Andrew Kreisberg (Arrow, Warehouse 13). Executive producers: Greg Berlanti (Green Lantern, Arrow) and Andrew Kreisberg. Producers: Greg Berlanti Productions in association with Warner Horizon Television. The Booster Gold comic book series is published by DC Entertainment, which will also act as an executive producer.
Darkfall – When, without warning, modern forms of power and technology become a thing of the past, Los Angeles, and the world at large, becomes a place where magic rules and life as we know it is turned upside down. Writers: Ethan Reiff and Cyrus Voris (Kung Fu Panda, Sleeper Cell). A production of The Jim Henson Company and Universal Cable Productions.