Screenwriting: New Writers For 'Stretch Armstrong' And 'The Ringling Brothers'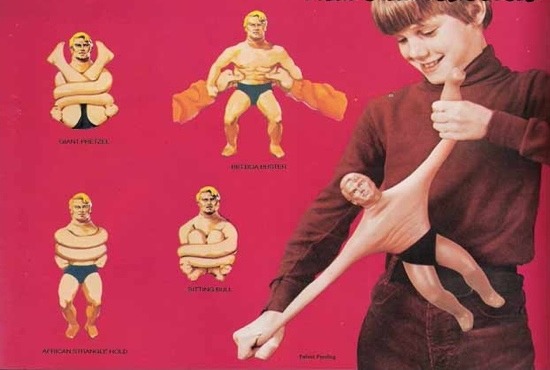 Briefly: How does one write a "plausible" Stretch Armstong movie? Recall, if you will, that for a few years Universal and Relativity were working to make a film based on the old Mattel toy (rights for which eventually went to Hasbro) that was basically a big guy who, uh, stretched. Think of Marvel's Mr. Fantastic, only as a beefy wrestler type, rather than a scientist.
Prior attempts to make a film, one featuring Taylor Lautner, went nowhere, and now Relativity and Hasbro have hired Dean Georgaris (The Manchurian Candidate remake, Paycheck) to script what Variety reports will be a "plausible, action oriented family pic" rather than the cartoonish live-action version that was planned for Lautner. The film has a release date of April 11, 2014, but evidently little else. Good luck, guys!
Paramount, meanwhile, has hired David Stem and David Weiss (The Smurfs) to write The Ringling Brothers. We've known that a film has been in development about the seven brothers who were founders of the circus they dubbed 'The Greatest Show on Earth,' and THR says that this script has been ordered as "a family adventure in the spirit of Night at the Museum and Charlie and the Chocolate Factory." The only other detail is that the story will be set in the present, which is interesting.