'G.I. Joe: Retaliation' Theatrical Trailer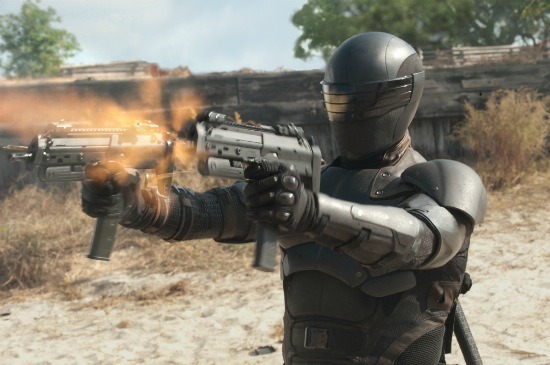 The theatrical trailer for Jon Chu's G.I. Joe Retaliation is now online. Opening June 29, 2012, it stars Dwayne Johnson, Channing Tatum, Bruce Willis, Adrianne Palicki, D.J. Cotrona, Byung-hun Lee, Ray Park, RZA, Joseph Mazzello, Elodie Yung, and Walton Goggins. Check it out the action-packed, brand new trailer after the jump.
Thanks to Machinma.com for the trailer.
While that trailer takes a little while to get going, the scope of the action is what's most impressive. The destruction of London? The ice over the mountain fight? Very nice looking stuff. Chu looks like he's kicking on all cylinders here. Let's just hope this story of the last remaining Joe's fighting Cobra can suck the audience in. Scope and action wasn't the problem with the first film.
The sequel to G.I. Joe: The Rise of Cobra had a huge presence at CinemaCon in Vegas including footage shown beyond just this trailer. You can hear about Peter's reaction to that here and check back soon for interviews concerning the film.
So, what do you think? Will this challenge some of the Summer's other massive films for box office dominance?
A follow-up to the 2009 release of G.I. JOE: RISE OF THE COBRA, which grossed over $300M worldwide, Paramount Pictures, MGM and Skydance Productions, in association with HASBRO and di Bonaventura Pictures, commences production on G.I. JOE: RETALIATION. In this sequel, the G.I. Joes are not only fighting their mortal enemy Cobra; they are forced to contend with threats from within the government that jeopardize their very existence.