Gina Carano Moves From 'Haywire' To 'Fast Six'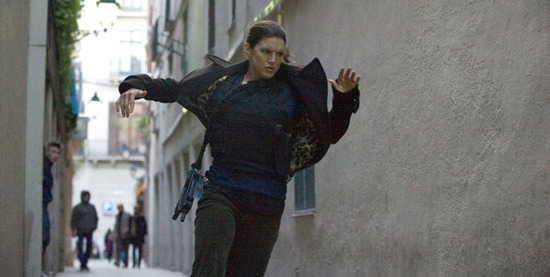 Steven Soderbergh helped Gina Carano change careers from MMA star to actress when he and Lem Dobbs built the action film Haywire around her. In the wake of that film's release, we've heard about possible next jobs for Carano, but now she's set to join one of the biggest action franchises from any studio.
Carano is in talks to join Fast Six (or Fast & Furious 6, or Fast 6, or whatever the final title will be), where she'll play alongside Paul Walker, Dwayne Johnson, and Vin Diesel. After beating the crap out of guys like Channing Tatum and Michael Fassbender in Haywire, that should't be much of a stretch.
THR says that Carano's full role hasn't been revealed, but that she'll be a member of The Rock's government team.
Justin Lin will direct Fast Six, with Chris Morgan again scripting the latest entry in the series. (They made the last three films together.) Fast Six is scheduled for May 24, 2013. After shooting the film, Carano will make In the Blood, the other post-Haywire job she signed for some time back.