Biopics: Lindsay Lohan As Elizabeth Taylor; Taylor Swift Could Be Joni Mitchell; Malin Akerman Doubts Her Linda Lovelace Film Will Happen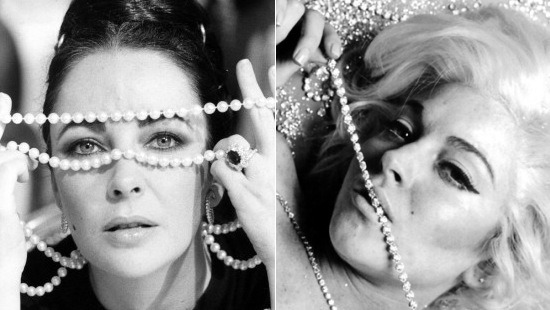 In the past few weeks, biopics have been the source of the weirdest casting news. Ashton Kutcher is playing Steve Jobs, and Jane Fonda is playing Nancy Reagan. Now a casting choice that seemed like a PR stunt when first mentioned — Lindsay Lohan playing Elizabeth Taylor in a Lifetime movie — has come to pass, while Taylor Swift is said to be lining up to play folk and feminist icon Joni Mitchell.
On the other side of casting news, Malin Akerman is doubtful that she'll really get the chance to play a different feminist icon, one-time porn star Linda Lovelace, in Inferno. And Eric Bana is no longer attached to play Elvis. 
First up, let's go with Lindsay Lohan and Liz Taylor.
When Lohan began her career comeback attempt a couple months ago one possible job for the actress was Liz & Dick, a Lifetime original movie about the romance between Liz Taylor and Richard Burton. (Taylor was married to Burton twice; the full span of their relationship lasted 25 years.) Now Lohan is confirmed for the role, via Variety.
Temple Grandin writer Christopher Monger scripted Liz & Dick; no director is set at this point. Given Lohan's track record in the past couple years, we'll see if this one actually gets made, at least in this configuration.
And then there is Taylor Swift, who was almost in the new film version of Les Miserables that The King's Speech director Tom Hooper is making now. Rather than singing in the classic musical, she could end up playing one of the more iconic members of the folk rock scene: songstress Joni Mitchell. That seems like a really weird choice, as Mitchell is a figure who represents the very opposite of the musical spectrum from that occupied by Swift. They're both famous female singers, but that's where the similarity ends.
Variety says that Swift is "circling" the role, which would be a part of Girls Like Us, a film based on Sheila Weller's book of the same name, which details the careers of three significant singers: Mitchell, Carly Simon, and Carole King. Allison Pill has auditioned to play King, but there is no casting set at this point. Katie Jacobs (House exec producer) will direct, and the film could shoot later this year.
This describes Weller's book:
Carole King, Joni Mitchell, and Carly Simon remain among the most enduring and important women in popular music. Each woman is distinct. Carole King is the product of outer-borough, middle-class New York City; Joni Mitchell is a granddaughter of Canadian farmers; and Carly Simon is a child of the Manhattan intellectual upper crust. They collectively represent, in their lives and their songs, a great swath of American girls who came of age in the late 1960s. Their stories trace the arc of the now mythic sixties generation — female version — but in a bracingly specific and deeply recalled way, far from cliché. The history of the women of that generation has never been written — until now, through their resonant lives and emblematic songs.
Finally, to bring things full circle, let's check in with the Linda Lovelace biopic Inferno. Lindsay Lohan was originally tapped for that role, but things didn't work out and the gig went to Malin Akerman instead. Now Akerman seems to think the film might never happen, telling THR,
I don't know if that's even going to go. Last I heard, which was just before Christmas, we were supposed to start shooting in March, and now it's April. It's been one of those doomed films that I absolutely love and totally believe in, I love the script, I think it's such a well-written script about the behind-the-scenes of a battered woman.
There is another film, Lovelace, already shooting with Amanda Seyfried in the lead role, and the momentum of that project can't be helping Inferno. Akerman says that she's been hesitating to fully prep for Inferno until the money is really in place to go forward, explaining, "I don't want to wrap myself up again, and then it's, again, you know it'd be going into a really dark place so I didn't want to go there a million times and then get the plug pulled."
One last note: last year Eric Bana was attached to play Elvis Presley in Elvis & Nixon, to be the feature directing debut of actor Cary Elwes. Now Bana is no longer set to play the part, he tells THR. No word on whether Bana remains part of the film as an exec producer, or whether Danny Huston will still play US President Richard M. Nixon, as originally planned.