Cool Stuff: Official 'Avengers' Art Show In LA May 3-6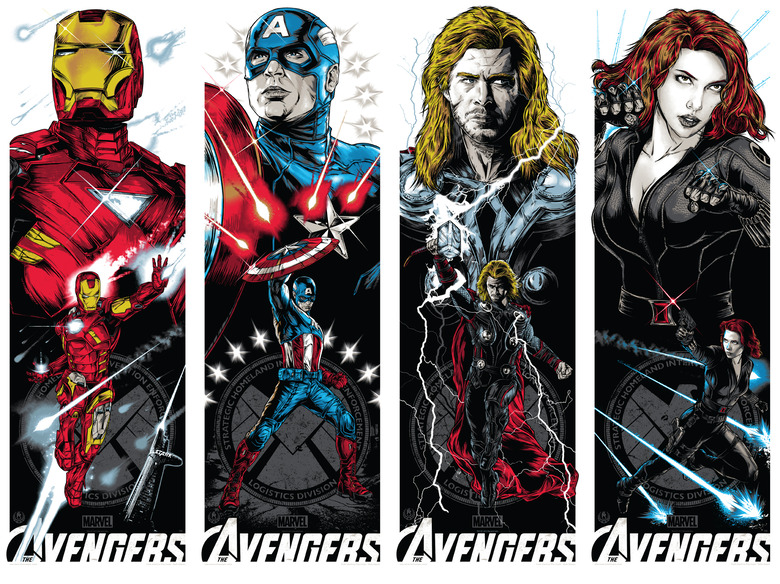 Mondo isn't the only pop culture art authority teaming up with Marvel and Disney to celebrate the release of The Avengers, Gallery 1988 is assembling right along side them. They're going to have a very special, officially licensed, Avengers themed art show in Los Angeles over the film's opening weekend, May 3-6, at a brand new location. Comprised mostly of original art, there will be a handful of very limited screenprints and some even more limited digital prints too from an artist lineup that includes Rhys Cooper (above), Dave Perillo, DKNG, Scott Campbell, Luke Chueh, Fernando Reza and others.
We're proud to debut the first images of art from the show as well as feature billboards and murals created by local street artists to help promote it. Check it all out below.
Avengers Assemble will be open from 11 a.m.-6 p.m. May 4-6 with opening night hours from 7-10 p.m. May 3 at 7021 Melrose Ave., Los Angeles CA. Head to Gallery1988.com for more information.
Here's some of the art in the show. Mouse over each for the artist name.
More art from the show will be revealed over the next two weeks (we've seen some, it's awesome) leading up to the opening and we'll likely be on hand to document the happening for those of you who can't be there. And, as usual, any art that doesn't sell out at this show (unlikely, but possible) should go online sometime later. Follow @Galleries1988 for the announcement.
Also, later this week check back for more official Avengers art as Mondo will add more pieces to their collection.
Will you be trying to pick up some officially licensed Avengers art from this show?
Images: TM & (c) 2012 Marvel & Subs