Cool Stuff: James Bond 50th Anniversary Marathon And Posters In San Francisco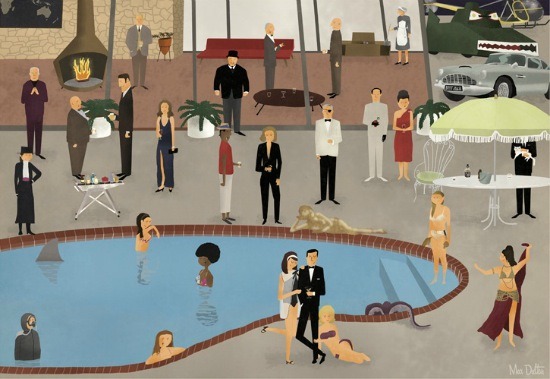 2012 marks the 50th anniversary of James Bond and everyone is getting into the celebration. There are new Blu-ray sets coming out, a brand new film in the works as well as lots of looks back at the best films featuring 007 over the past five decades.
The Castro Theatre in San Francisco, CA is spending this upcoming weekend, April 20-22, doing just that with eight of the best Bond films playing in double and triple features as well debuting two exclusive posters created by Max Dalton and curated by Spoke Art. After the jump, check out the full schedule and posters for this weekend's festivities.
For more information on the screenings, head to the Castro Theater website. For more info on the print, and to buy any left overs, head to Spoke Art. Here are the two posters by Max Dalton that'll be available this weekend. Each is an 18 x 24 giclee in an edition fo 250 and costs $50.
Also, a lobby card that looks just like the image on the right will be available for free to the first 15 people at each screenings. Here's the list of movies playing, all in 35mm.
Friday April 20: Dr. No, 2 and 7 p.m. with On Her Majesty's Secret Service, 4:10 and 9:05 p.m.
Saturday April 21: From Russia With Love, 2:30 and 9:30 p.m., Diamonds are Forever, 4:45 p.m., The Spy Who Loved Me, 7:05 p.m.
Sunday April 22: Thunderball, 1 and 8:15 p.m., Live and Let Die, 3:30 p.m., For Your Eyes Only, 5:50 p.m.
The posters will only be available at the evening screenings and leftovers will be at the above link on Monday April 23. As for the films themselves, it's a pretty solid line up for a very affordable price. Sounds like a pretty fantastic way to spend a weekend.