Nicolas Winding Refn Producing 'Maniac Cop' Prequel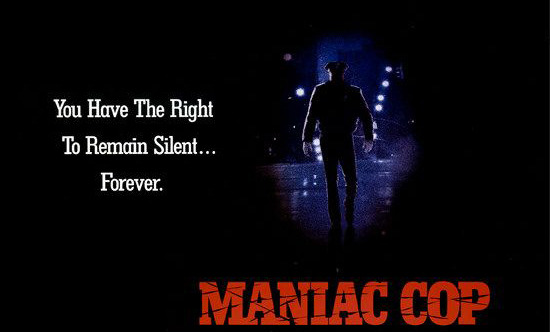 The films of William Lustig are crude exploitation, but they're strange and entertaining enough to find new groups of fans every few years. Maniac, for example is a chilly ride, and a film that is currently being remade with Elijah Wood as the unlikely but compelling choice for the title character. Vigilante is a Death Wish- and poliziotteschi-influenced urban crime movie with a cartoonish tone balanced by Robert Forster.
Then there are the Maniac Cop films: a bizarro trilogy of increasingly silly tales centered on killings perpetrated by a vengeful/evil/supernatural police officer.
The original film starred genre stalwarts Tom Atkins, Bruce Campbell, Richard Roundtree, and the massive-jawed Robert Z'Dar as the title character. Writer Larry Cohen (also a schlock master, thanks to films like Q, God Told Me To, and It's Alive!) and Lustig have been working to produce a new Maniac Cop film.
And now they've got company. Nicholas Winding Refn (Drive, Pusher, Bronson) is on board to produce the movie that will be a prequel of sorts to Lustig's original 1988 picture.
DailyGrindhouse (via Badass Digest) talked to Cohen and Lustig. Cohen explained that this film will have a bigger budget than the previous entries, but a similar tone. He also said,
It's going to be more a prequel than anything else, I am really excited to come back to this world especially since Nick is going to be a part of it... [Nicolas Winding Refn] has been talking to us about it for a while now and I had an idea that would work so we're going to do it.
William Lustig added "the project isn't 100% signed off on but it's pretty close." So this isn't locked, but there is a plan and a set of participants.
There is not a publicly announced director or cast. Seeing Refn's name attached as producer will suggest to some that he might direct, but he's finishing Only God Forgives in Thailand now, and is still set to do the Logan's Run remake (with Ryan Gosling starring) for Warner Bros.