TV Bits: 'Fringe' Has Shot Two Potential Endings Depending On Series' Fate, Plus: Ellen Burstyn, Mitt Romney, 'Downton Abbey', 'Girls', 'True Blood', 'The Newsroom'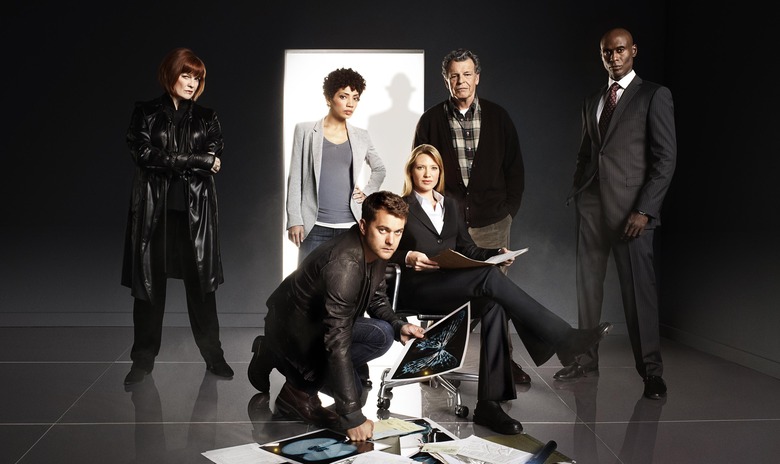 Ellen Burstyn gets political, while Mitt Romney goes Hollywood. After the jump:
Ellen Burstyn is Sigourney Weaver's mom in Politcal Animals
Presidential hopeful Mitt Romney could cameo on SNL
Relax: Maggie Smith is not leaving Downton Abbey yet
DirecTV and Starz renew their distribution deal
A first look at the cast of Aaron Sorkin's Newsroom...
... the premiere of which will feature Jesse Eisenberg's voice
The first episode of HBO's new comedy Girls is now online
True Blood unveils a playful new teaser for Season 5
Fringe has shot two different endings, in case it gets cancelled
Political Animals is scheduled to enter production later this month for a summer debut. Though the DC-set drama will start out as a six-episode miniseries, the hope is that Political Animals will do well enough to expand into a regular, multi-season series. [Variety]
And speaking of White House wannabes...
Over the course of the Republican primaries, Mitt Romney's earned a reputation for being a bit stiff, even robotic. But it's hard to get elected if nobody likes you, so the presidential hopeful could be working to shake up that image by loosening his tie for a cameo on NBC's Saturday Night Live.
The NYT reports that exec producer Lorne Michaels has offered a guest spot to Romney — and according to the LAT, Romney is seriously considering accepting. "Of course it would depend on the nature of the skit. I want it to be funny," he said. Insert your own crack about the relative unfunniness of latter-day SNL here. [via Cinema Blend]
If today's rumor that Dame Maggie Smith could be on on her way out of Downton Abbey had you in a tizzy, Carnival Films would like to reassure you that there's nothing to worry about. "We never comment on future story lines but it's not true that she's leaving," said the production company. Whew. Though I wouldn't get too comfortable yet — apparently Smith has yet to finalize a contract renewal, so technically, anything could still happen. [Vulture]
It's not like Jesse Eisenberg was ever hurting for critical approval, but his riveting turn in the Aaron Sorkin-scripted The Social Network brought the young actor to new levels of fame and acclaim. So it's no wonder that he's willing to pitch in for Sorkin's new drama for HBO, The Newsroom.
Eisenberg will be heard (though not seen) in "a small voiceover role" as a recognizable "newsmaker" in the first episode of the series, which takes place at a cable news series. Could this means Eisenberg will be briefly reprising his Oscar-nominated role as Mark Zuckerberg? EW, which broke the news, won't say, but we'll know for sure in just a couple of months. The Newsroom premieres June 24. [via The Playlist]
As for the Newsroom characters who actually will be visible, Vanity Fair has the first look at the main cast. Jeff Daniels stars as news anchor Will McCoy, Emily Mortimer as his executive producer, and Sam Waterston as their boss, the network president. Olivia Munn, Dev Patel, Alison Pill, Thomas Sadoski, and John Gallagher Jr. round out the rest of the roster.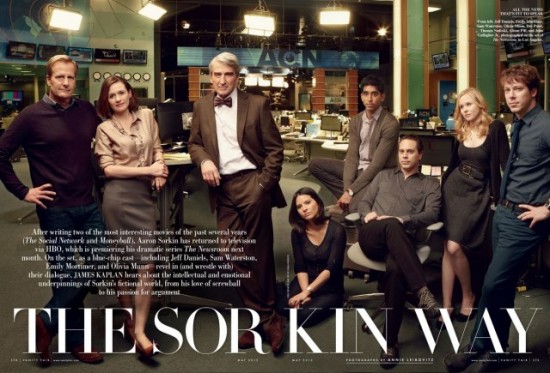 [via The Playlist]
Last week, we reported that HBO would be trying to lure you into a subscription by posting the premieres of two of its promising new series, Lena Dunham and Judd Apatow's Girls and Armando Iannucci's Veep, for free online. Veep won't be airing, online or otherwise, for another week. But Girls made its TV debut Sunday night to rave reviews (though only OK ratings) and is now, as promised, available to watch on YouTube. Don't wait too long, though — Girls will only be up through May 14.
What HBO's new teaser for True Blood Season 5 lacks in new footage, it makes up for with tongue-in-cheek humor. Titled "Mistakes Vamps Make" and highlighting such cringeworthy situations as "awkward first dates" and "clingy exes," the playful video could almost be part of the Girls marketing campaign if it weren't for a few direct references to literal immortality.
[via Coming Soon]
True Blood will return Sunday, June 10.
Less certain is the return of Fox's Fringe, which will air its fourth and possibly final season finale on May 11. Since the network has yet to decide whether to renew the series, producers have apparently prepared for the both the best- and worst-case scenarios. Star Lance Reddick let slip to Zap2It that they've shot two different endings — one a proper series finale, one a more cliffhanger-y setup for Season 5.
"Something happens at the very, very end of the season finale," he said. "It may or may not stay; I don't know. It could open up an entire new season." Reddick continued, "It could be a cliffhanger, but the thing that's beautiful about the way that the season ends is that it seems to answer almost all the questions that started in Season 1... except for that one story."
But Fringe fans shouldn't take the producers preparedness as a bad sign. In fact, Zap2It says it's "likely" the series will get a final, 13-episode fifth season to wrap things up. [via Screen Rant]