Trailers: 'Hysteria', 'Storage 24', 'Diary Of A Wimpy Kid: Dog Days'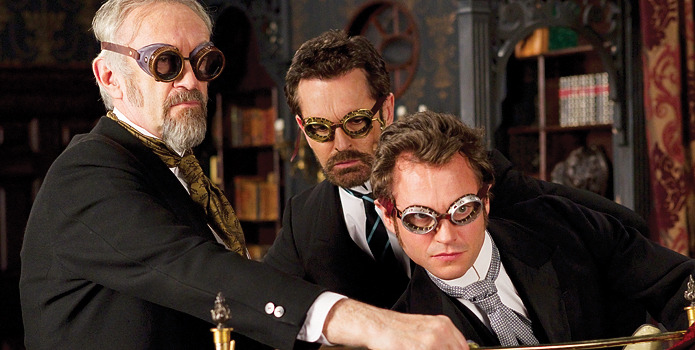 As usual, this summer season looks to be stuffed with massively hyped, massively budgeted blockbusters, from May's The Avengers to August's The Expendables 2. Whenever you tire of glossy, expensive explosions in IMAX 3D, however — and at some point you will — there are plenty of other smaller movies on the calendar that could be worth a look.
After the jump, we have trailers for Maggie Gyllenhaal and Hugh Dancy's Victorian-era sex comedy (yes, really) Hysteria, Noel Clarke's sci-fi thriller Storage 24, and the latest installment of Fox's kid-friendly Diary of a Wimpy Kid franchise, Dog Days. Watch after the jump.
[via First Showing]
London, 1880. Mortimer Granville, a dedicated and forward-thinking young doctor, is struggling to establish his career. While Granville preaches sanitation and germ theory, the old guard of doctors clinging to leeches and hacksaws, scoff at his upstart ideas, and show him the door. Granville's fortunes change when he arrives for an interview at the well-appointed private offices of Dr. Dalrymple, London's leading specialist in women's medicine.
This feels less like a genuine period piece and more like a contemporary comedy dressed up in 19th-century clothing, but it also looks fairly charming — and way more interesting than the actual modern-day romcom What to Expect When You're Expecting, which hits on the same day (May 18).
Next up is Storage 24, a sci-fi horror from F director Johannes Roberts.
[via Bleeding Cool]
London is in chaos. A military cargo plane has crashed leaving its highly classified contents strewn across the city. Completely unaware London is in lockdown, Charlie (Noel Clarke) and Shelley (Antonia Campbell-Hughes), accompanied by best friends Mark (Colin O'Donoghue) and Nikki (Laura Haddock), are at Storage 24 dividing up their possessions after a recent break-up. Suddenly, the power goes off. Trapped in a dark maze of endless corridors, a mystery predator is hunting them one by one. In a place designed to keep things in, how do you get out?
It's not the most original trailer I've ever seen, but there seem to be some decent scares and some likable performances if you're in the mood for something tense. Unfortunately, Storage 24 doesn't seem to have a U.S. release lined up yet. If you're in the U.K. or Ireland, though, you can catch it on June 29.
Finally, here's Diary of a Wimpy Kid: Dog Days:
[via Coming Soon]
During his summer vacation, "Wimpy Kid" Greg Heffley, the hero of the phenomenally successful book series, hatches a plan to pretend he has a job at a ritzy country club — which fails to keep him away from the season's dog days, including embarrassing mishaps at a public pool and a camping trip that goes horribly wrong.
Diary of a Wimpy Kid isn't a series that gets talked about much in these circles, but it's actually quite a successful kiddie franchise. The first two films have grossed $148 million worldwide on a budget of $36 million, and Dog Days is the third installment. I don't think there's much in here for adults, but I could think of worse ways to spend time with a pre-adolescent. Diary of a Wimpy Kid: Dog Days hits, appropriately enough, in the dog days of summer — August 3, to be precise.