Sequel Bits: Bill Murray Sets 'Ghostbusters 3' Rumor Mill Churning Again, Plus: 'Expendables 2', 'Men In Black 3', 'G.I. Joe: Retaliation', 'Taken 2', 'Star Trek 2'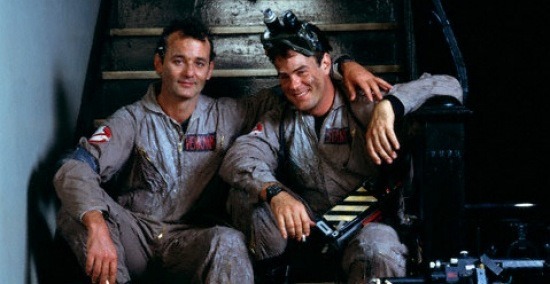 Every time I think the whole back-and-forth about Bill Murray and Ghostbusters 3 is finally drawing to a close, somehow it comes roaring back again. This time, Murray is the one who's not ruling out the possibility, however small, of his involvement. Also after the jump:
Photos from Expendables 2, MIB3, and G.I. Joe
A revealing new pic of Spock in Star Trek 2
Maggie Grace talks about Taken 2, again
But Murray himself apparently hasn't quite thrown in the towel. Asked by Chicago news station WGN whether he might be involved with Ghostbusters 3, Murray acknowledged, "It's a possibility." However, there's a world of difference between not ruling something out and committing to actually doing it, and the next sentence out of Murray's mouth was telling.
Rather than allow himself to be led down the Ghostbusters line of questioning, Murray quickly changed the subject to some of his other new projects. "There's a couple [of my upcoming films] that are already done, though, that are really good," he said, citing Wes Anderson's Moonrise Kingdom as one example. [via MovieWeb]
It's getting warmer outside, and you know what that means: Summer blockbuster season is almost upon us. This year's crop includes a few sequels, including The Expendables 2, G.I. Joe: Retaliation, and Men in Black 3, and EW has offered up a few new stills that you can see below:
Men in Black 3 will drop first on May 20, followed by G.I. Joe: Retaliation on June 21 and The Expendables 2 on August 17. [Coming Soon]
And speaking of new photos, here's one of Star Trek 2 that clues us in to one thing Spock (Zachary Quinto) will be doing in the upcoming sequel.
[POTENTIAL SPOILERS FOLLOW]
No, he's not trying to become the next Iron Man. According to On Location, who posted the film, that's something called a Volcano Suit:
Zachary Quinto as Spok filming an action scene for the Untitled Star Trek 2 Sequel. After first rehearsing the scene with a Spok Stunt Double Actor Zachary Quinto was then rigged to a wire in front of a large green screen and lifted to a height of 10 stories high then dropped at a high rate of speed as if he was falling. In the scene Spok is wearing a "Volcano Suit" and carrying an unknown piece of equipment with the Starfleet Emblem. A Volcano is somehow involved in this scene. The crew had a real fire burning off camera to catch the fire reflections on Spok's "Volcano Suit".
Okay, so the fact that they spell "Spock" "Spok" doesn't inspire much confidence, but they've had some good scoops in the past. Star Trek 2 is slated for a May 17, 2013 release. [MTV]
It feels like Maggie Grace has spent nearly as much of her Lockout press tour talking about Taken 2 as she has about Lockout, but the actress has gamely answered every question that comes her way. While talking to MovieWeb, Grace confirmed that the sequel would be "a bit of an inversion of the first plot," and praised the new storyline as "compelling and a really good choice."
I know a lot of people are like, Taken, how do you make a squel to that? What, do you get kidnapped again? [...] So luckily, they chose to go [with the reversal] and it's really really fantastic. And I mean the car chase through Istanbul is sick. I just saw it at ADR a few days ago, and I was like, can I see a couple minutes more? It was amazing.
Lockout opened this past weekend; Taken 2 hits theaters October 5.