Sequel Bits: 'Muppets 2' Will Be A Comedy Caper, Plus: 'Roger Rabbit 2', 'Twilight', 'Skyfall', 'Prometheus'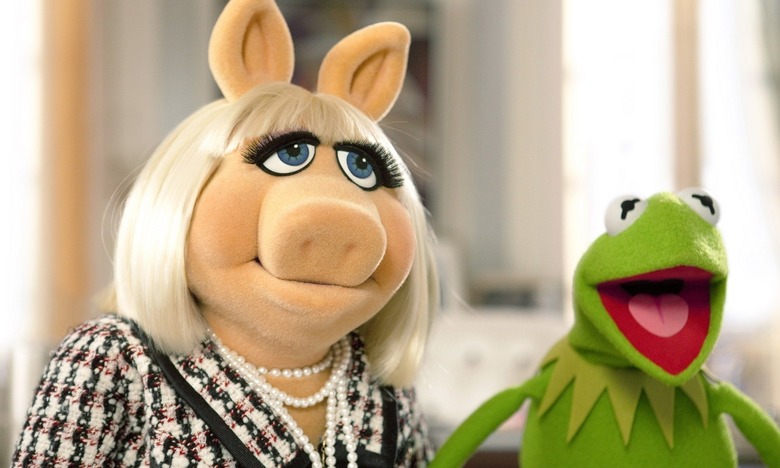 Edward Cullen, James Bond, and Kermit the Frog are all preparing to return to the big screen, but it looks like Roger Rabbit is not. After the jump:
Roger Rabbit 2 is still not moving forward
The Twilight gang is heading into reshoots
Daniel Craig says 007 is "nicer" in Skyfall
Nicholas Stoller has details on The Muppets 2
Prometheus will one hour and fifty-nine minutes
"Roger Rabbit, we've talked about making for twenty-five years, since the original one came out," Hahn said. "And you never know. But there's nothing in the works right now." [Attractions Magazine]
Director Bill Condon is putting the final touches on Breaking Dawn Part 2, the fourth and last installment of the Twilight franchise. In a new Facebook post, Condon revealed that he was heading into reshoots with stars Kristen Stewart and Robert Pattinson in Vancouver, though he stressed that the additional shots were for technical purposes and would not include new scenes or dialogue. "A film is a lot like a puzzle, with each piece – each shot, no matter how brief – needing to fit exactly with the ones around it," he wrote. "Our Part Two puzzle is finally coming into full view, and in a few weeks we'll be heading back north to pick up some additional shots – the last tiny missing pieces."
Condon also teased another upcoming trailer for fans to decode, as well as some new posters that he promised would be "unlike any "Twilight" images you've seen before." Head over to Facebook to read the full post. Breaking Dawn Part 2 opens November 16. [via THR]
Daniel Craig's first two outings as James Bond found him tapping into the character's more emotional side, as he (spoiler alert) fell for Vesper Lynd (Eva Green) in Casino Royale and then mourned her death in Quantum of Solace. But time heals all wounds, even those of iconic British superspies, and Craig reveals that the upcoming Skyfall will see the character starting out in a much happier place.
"He's much softer and nicer now," Craig told MTV. "He's not so brokenhearted. He's on the mend now. He's feeling much better." The star added, "[Director Sam Mendes is] not out to do an angst-ridden movie, some chamber piece about people's emotions. It's a Bond movie." We'll see when Skyfall hits the U.S. on November 9. [The Playlist]
It was a disappointment to learn that after all the love and work he poured into last year's The Muppets, co-writer and star Jason Segel wouldn't be back for the sequel. Co-writer Nicholas Stoller will, however, and in a recent interview he offered some hints as to what the next Segel-less Muppets would be like.
Stoller revealed that he and the first film's director, James Bobin, had begun working on the script late last week after two weeks of outlines, and gave some clues as to what we could expect to see. "I will say, it is a caper. It is a comedy caper." He continued:
Yeah, I think it's similar to the first one in that the first one certainly had dramatic connections to the first Muppet movie, but it was a whole new thing, hopefully. This is the same thing. We love The Great Muppet Caper and we love Muppets Take Manhattan and whatnot. So this has some elements of that, but it's different because it's in the tone of what James and I like to do.
Stoller also mentioned that there was "a cameo possibility" for Segel in the upcoming movie, which would conclude Gary and Mary's storyline, and that new characters would be introduced. And that we might get to meet them sooner rather than later — Stoller said that Disney was looking at a Summer 2013 release, though "I don't think that that's realistic in terms of getting it all together in time." [Collider]
I know you've had Prometheus' June 8 release date marked on your calendar for months now, but if you're wondering exactly how much time you need to set aside for the film, director Ridley Scott has just revealed the approximate running time of the film.
"We're running at about — I think without the end titles, which normally run about four or five minutes — we're running at one hour and fifty nine minutes and change," he said. While the length of a film has often been a point of contention between directors and studios, Scott said he was pleased with the theatrical cut of the new movie. "In this instance, you've got a pretty good version here, a pretty good cut," he said. [via The Playlist]