'A Buddy Story' Trailer: A Super-Indie Road Movie With 'Mad Men' Star Elisabeth Moss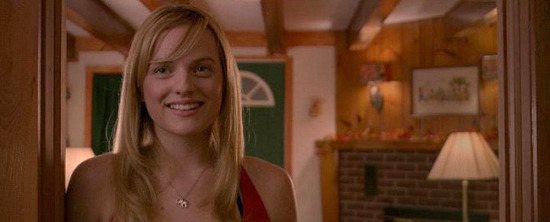 On Mad Men, Elisabeth Moss's character Peggy Olson is one of the key ingredients to the show's recreation of the 1960s. She makes mistakes, as all the characters do, but is a key part of the show's conscience, and a manifestation of progressiveness. It is a character that could so easily have just been a walking symbol, but Moss gives Peggy real life; a simple shot of her perceptive, weighted gaze is enough to pass judgement on other characters, even as Peggy is sometimes tempted to join in the shenanigans.
Commitment to Mad Men has prevented Moss from taking many big feature film roles, but there is an indie that has been around for a few years (looks like the film was originally shot just as Mad Men was starting, in 2007) in which she plays one of the two leads. The film is A Buddy Story, and it is an oh-so-indie looking road trip story involving a rootless musician (Gavin Bellour) and the neighbor (Moss) who joins him on the road to escape part of her own life.
The film will finally be released next month, and a trailer is out now.
There are moments in there where Moss looks great, but that trailer does a lot to suggest reasons the film has been sitting around completed for a while now. I hope it turns out to be better than the trailer suggests, but I have my doubts.
Yahoo will give you the HD version of the low-fi indie's trailer. A Buddy Story opens on May 15.
Buddy (Gavin Bellour) is a struggling musician touring the northeast with his pet turtle. Buddy's neighbor Susan (Elisabeth Moss) seeks an opportunity for escape from her abusive boyfriend, and tags along on Buddy's tour. From a rough biker bar to a 100-year-old's birthday party and other odd stops along the way, Buddy and Susan come to realize that it's not the road's end that matters, but rather the road itself.