HBO Will Offer The First Episodes Of 'Girls' And Veep' For Free Online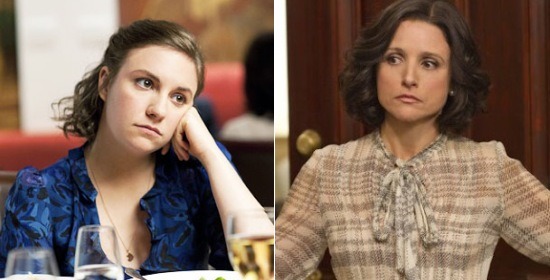 Between the second season of Game of Thrones and the premieres of buzzed-about comedies Girls and Veep, April 2012 seems like an especially great time to have an HBO subscription — or, HBO hopes, to sign up for one if you haven't already. The premium cable network has announced a plan to offer the first episodes of the two new shows for free online, starting the day after their debuts. Curious TV watchers will be able to check out the episodes via HBO.com, YouTube, DailyMotion, TV.com, and various Free On Demand platforms. More details after the jump.
Of the two HBO shows, Girls will go first, premiering on HBO this Sunday, April 15 before going online from April 16 through May 14. Created by Tiny Furniture writer/director/star Lena Dunham and executive produced by Judd Apatow (among others), Girls centers around a group of 20something women trying to make it in New York City. Sort of like a younger Sex and the City, I suppose, only much poorer, much less glamorous, and much more cringeworthy. Dunham stars with Jemima Kirke, Allison Williams, Zosia Mament, and Adam Driver. Watch the latest trailer below:
One week later, Veep will make its on-air bow on Sunday, April 22 and then its Internet debut on April 23. The series, which will also be available via iTunes, will be offered through May 21.
Having previously skewered British politics in the BBC series The Thick of It and its big-screen spin-off In the Loop, creator Armando Iannucci takes aim at American government in Veep. Julia Louis-Dreyfus stars as Selina Meyer, a U.S. senator who lands the second-highest position in the executive branch; Tony Hale, Anna Chlumsky, and Matt Walsh star as well. Check out Veep's previously released trailer here:
[Source: Deadline]