Six New Images From 'The Dark Knight Rises'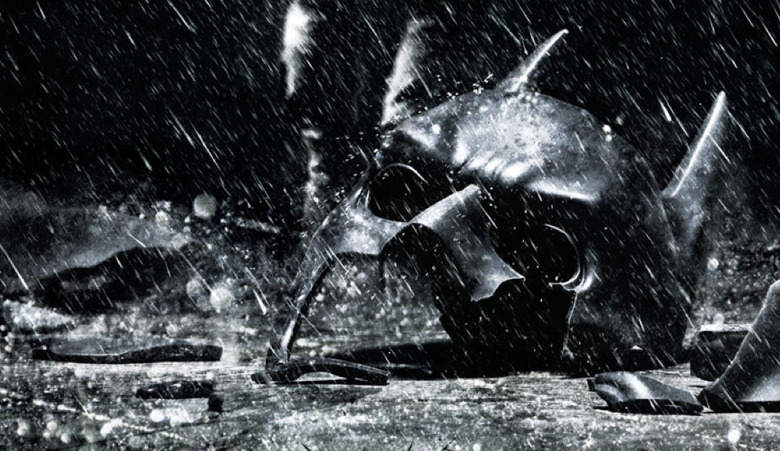 Batman with a tablet? Bruce Wayne in a bathrobe? Bane sporting a new vest? Yes, yes and yes, as new images from Christopher Nolan's The Dark Knight Rises are afoot. They come from the latest issue of Entertainment Weekly, the always revealing Summer Movie Preview and – no surprise – Nolan's third and final Batman film graces the cover. Inside, six new pictures give clues to some new moments in the film and provide alternative glances at things we've already seen. But it's The Dark Knight Rises and any new glimpse just brings us that much closer to July 20. Check out all the images after the jump.
Thanks to Batman-News for the Entertainment Weekly images. I'll delve into some spoiler speculation below the images.
Obviously the big reveal is the Bane photo, which looks to be on the floor of some financial institution. Plus it appears he's in some kind of prison garb. Each of those nuggets do seem to fill in gaps of things we've seen in the past, such as the "Rise" chanting in prison and Bane and Batman fighting on the steps of what could be some kind of Wall Street building. Or, maybe, I'm 100% totally off base.
Outside of that image, a few other things are worth noting. Catwoman seems to be robbing Wayne Manor, as has been suggested from the trailer. And Bruce Wayne's flowing locks while speaking to Lucius Fox (two points for rhyming) suggest that's from a part of the movie where he hasn't been Batman for a while. However, Batman is on the cover of the Gotham Times.
More pieces to Christopher Nolan's puzzle and I love it.
The Dark Knight Rises, directed by Christopher Nolan and written by Christopher Nolan and Jonathan Nolan, will be released on July 20. It stars Christian Bale, Tom Hardy, Anne Hathaway, Joseph Gordon-Levitt, Michael Caine, Gary Oldman, and Morgan Freeman.