'Short Circuit' Remake Will Star Pre-Teen Actress, Aims To Be Family Friendly Movie About Modern War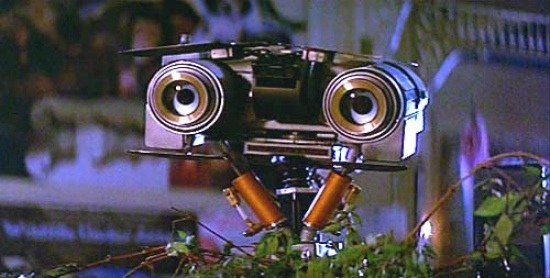 Johnny 5 will once again be alive, but this time he'll befriend a teenage girl set against the back drop of modern robotics in war. So says director Tim Hill (Hop) who has been tasked with co-writing and eventually directing a remake of Short Circuit, based on the popular 1986 film that starred Steve Guttenberg, Fisher Stevens and Ally Sheedy. In that film, the two men create a Cold War robot who gains human consciousness when he's struck by lightning. The robot, nicknamed Johnny 5, then befriends a character played by Sheedy.
The new film will have elements of that, but the Sheedy character will be younger and the whole film will be set in a modern world where robots are essential to warfare. Read Hill's quotes on the subject after the jump.
Hill spoke to the 24 Frames blog of the Los Angeles Times and said the following about the film:
The thing that makes it so relevant is that we live in this age of robots, particularly when it comes to war. We have drones that do our fighting for us, do all these jobs men and women don't want to do. And that's what makes this so interesting — things like this moment in the story when Johnny realizes he's going to be disassembled and contemplates death, and whether it's right to terminate someone else.
The writer/director admitted those are " heavy themes for a family movie," but believes it'll work in the story they have in place.
As for aging down the female lead, that's to give the film a more family feel and also play with the "wish fulfillment" that kids might have of an all-powerful, robotic best friend. Of course, that'll then delve into human's current dependency on technology.
Finally, speaking on the new look of Johnny-5, Hill said it would definitely be similar to the original but needs to have a modern touch:
I'm tempted to go back and grab the original. But I think it has to be closer to what modern design actually is. There are computer models and labs developing real machines like this. We want to do something like that. You've got to find the balance between something fierce and something endearing. The original was cute. But no one was threatened by it.
Do you think Hill can pull off a worthwhile remake of Short Circuit?