New Images: Ridley Scott's 'Prometheus', Wes Anderson's 'Moonrise Kingdom'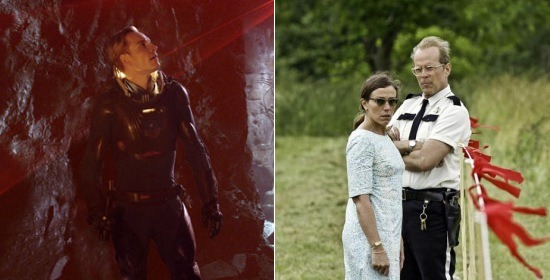 There are about a million reasons to look foward to the arrival of warmer weather each year, but for cinephiles, one of the biggest is the summer movie season. This year's crop looks like a nicely varied one, and two of the titles I've been most eager to see couldn't be more different. Ridley Scott's Prometheus seems as serious and futuristic as Wes Anderson's Moonrise Kingdom does whimsical and retro, but they both look pretty fantastic if you ask me. Check out new images from both films after the jump.
Starring Michael Fassbender, Noomi Rapace, Idris Elba, Charlize Theron, and more, Prometheus opens June 8.
Ridley Scott, director of "Alien" and "Blade Runner," returns to the genre he helped define. With PROMETHEUS, he creates a groundbreaking mythology, in which a team of explorers discover a clue to the origins of mankind on Earth, leading them on a thrilling journey to the darkest corners of the universe. There, they must fight a terrifying battle to save the future of the human race.
The Moonrise Kingdom stills come from FilmoFilia (by way of The Playlist). Some of the scenes look familiar from the first trailer, but the pictures provide some closer looks at the star-crossed kids (Jared Gilman and Kara Hayward) and the adults (Bill Murray, Frances McDormand, Bruce Willis, and Jason Schwartzman) whose lives are disrupted by their romance. Since the film's set in 1965, everyone's wearing colorful period gear.
That looks like a Wes Anderson film, all right. Moonrise Kingdom hits theaters May 25.
Set on an island off the coast of New England in the summer of 1965, MOONRISE KINGDOM tells the story of two twelve-year-olds who fall in love, make a secret pact, and run away together into the wilderness. As various authorities try to hunt them down, a violent storm is brewing off-shore — and the peaceful island community is turned upside down in more ways than anyone can handle. Bruce Willis plays the local sheriff. Edward Norton is a Khaki Scout troop leader. Bill Murray and Frances McDormand portray the young girl's parents. The cast also includes Tilda Swinton, Jason Schwartzman, and Jared Gilman and Kara Hayward as the boy and girl.