/Film Exclusive: 'The Raid Redemption' Stunt Featurette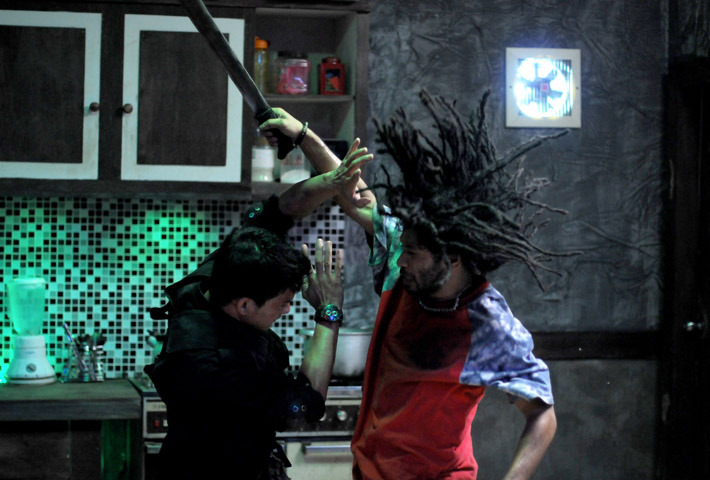 Odds are, if the insanely excellent action film The Raid: Redemption isn't yet playing in a theater near you, that'll change on Friday. Sony Pictures Classics is opening the film in almost 700 theaters this week enabling fans from all over to see a film that reminds us what action films can be.
Directed by Gareth Evans, The Raid: Redemption is a non-stop roller coaster of chaos following an elite squad of police who enter a drug dealer's sky rise strong hold. Adding to the visceral feel of the movie are the live-action stunts performed on set and, in this /Film exclusive featurette, Evans and his co-composers Mike Shinoda discuss one of the most memorable. Check it out after the jump.
Here's the featurette discussing the stunt. There's no spoiler warning because the stunt itself isn't shown in the video and words can't do the real thing justice even if you know exactly how it went down. Here's the video.
The Raid: Redemption, the first of a proposed trilogy, opens wide on April 13. Click here for a full list of theaters.
Here's the official plot description of the film which gets into a bit more detail:
As a rookie member of an elite special-forces team, Rama (Iko Uwais) is instructed to hang back during a covert mission involving the extraction of a brutal crime lord from a rundown fifteen-story apartment block. But when a spotter blows their cover, boss Tama (Ray Sahetaphy) offers lifelong sanctuary to every killer, gangster and thief in the building in exchange for their heads. Now Rama must stand in for the teams fallen leader Jaka (Joe Taslim) and use every bit of his fighting strength – winding through every floor and room to complete the mission and escape with his life. Recently named one of 2012s "Directors To Watch" by Variety – Gareth Huw Evans reteams on THE RAID: REDEMPTION with Iko Uwais, the star and fight choreographer of the cult sensation Merantau – which first brought the Indonesian martial art of Pencak Silat to global attention. Already a word-of-mouth sensation at the Toronto Film Festival, where it played to sold out crowds, the film is now poised to reach global audiences with a propulsive new score by alternative rocker/composers Mike Shinoda of Linkin Park and Joseph Trapanese, collaborator with Daft Punk and M83.