Maria Hill And Nick Fury Share A Tense Moment In Second 'Avengers' Clip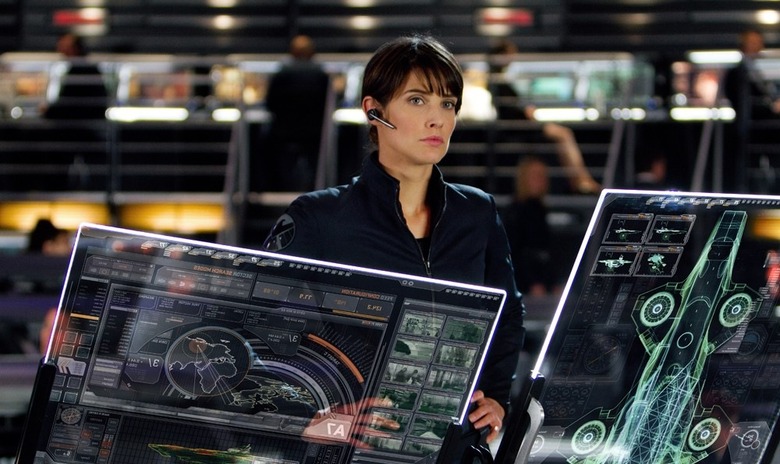 Although she's long been a fan favorite on How I Met Your Mother, Cobie Smulders isn't too well known outside of her involvement on the hit CBS comedy. That's all about to change next month, however, when Joss Whedon's The Avengers hits. In her highest-profile movie gig yet, Smulders plays S.H.I.E.L.D. agent Maria Hill, who works with Nick Fury (Samuel L. Jackson). For obvious reasons, most of the footage we've seen so far has focused on the titular superhero team, but a newly released clip offers some insight into the working relationship between Hill and Fury. Watch it after the jump.
[via The Daily What]
It's a pretty brief clip, so it's tough to get a good sense of what Smulders is really like in the role. As a HIMYM watcher, though, I've got faith that the charming Smulders will be able to pull it off with flying colors. Smulders and Jackson star with Robert Downey Jr., Chris Evans, Mark Ruffalo, Chris Hemsworth, Scarlett Johansson, Jeremy Renner, and Tom Hiddleston in the Marvel picture, which opens May 4.
And just because, like I said, I'm a HIMYM fan, here's a clip of Smulders' "Robin Sparkles" music video from the show:
Never gets old.
When an unexpected enemy emerges that threatens global safety and security, Nick Fury, Director of the international peacekeeping agency known as S.H.I.E.L.D., finds himself in need of a team to pull the world back from the brink of disaster. Spanning the globe, a daring recruitment effort begins.