TV Bits: Is This The Leaked Script For The Season 5 Premiere Of 'Breaking Bad'? Plus: 'The Newsroom', 'True Blood', '24', 'Saturday Night Live', 'Sons Of Anarchy', And More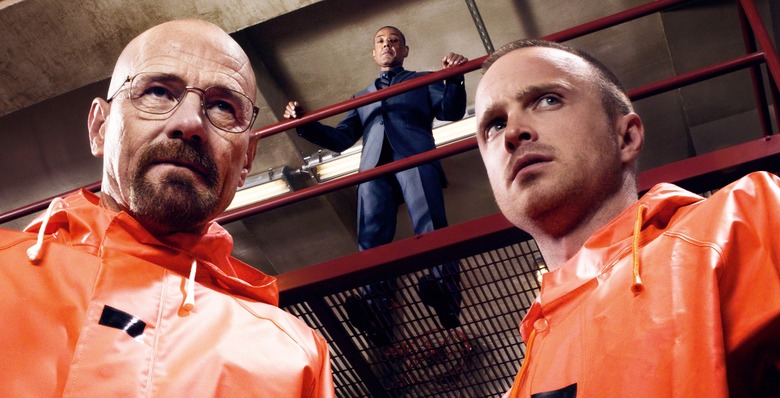 There's a ton of TV news coming down the pipeline, so let's get right to it. After the jump:
The Newsroom and True Blood get premiere dates
 Fox will celebrate its 25th birthday with its biggest stars
 Elisha Cuthbert says she's "on standby" for the 24 movie
 Is Saturday Night Live losing three of its cast members?
 The CW's Supernatural finds a new co-showrunner
 A This American Life segment turns into an HBO drama
 Funny or Die's Drunk History heads to Comedy Central
 Is this really the script of Breaking Bad's season premiere?
 Jimmy Smits turns to the dark side on FX's Sons of Anarchy
The Fox Network commemorates its 25th birthday this year, and as part of the celebration it's bringing back stars from some of its greatest hits. Mila Kunis, Ashton Kutcher, Laura Prepon, and Wilmer Valderrama will appear for a partial reunion of the That '70s Show cast, while Ed O'Neill, Katey Sagal, Christina Applegate, and David Faustino will represent Married... With Children — the network's first-ever primetime series. The X-Files creator Chris Carter is on board as well, along with stars Gillian Anderson and David Duchovny.
And that's just the tip of the iceberg. The star-studded two-hour special will also feature appearances by 24's Kiefer Sutherland; Family Guy's Seth MacFarlane; Ally McBeal's Calista Flokhart; Beverly Hills, 90210's Shannen Doherty, Ian Ziering, and Gabrielle Carteris; The Tick's Patrick Warburton; In Living Color's Keenen Ivory Wayans, Marlon Wayans and Shawn Wayans; and American Idol's Ryan Seacrest, Jennifer Lopez, Randy Jackson, and Steven Tyler. Fox's 25th Anniversary Special will air Sunday, April 22 at 8 PM. [THR]
The 24 movie schedule keeps getting pushed around, and it now seems unlikely to get going anytime before Spring 2013. When it finally does come together, though, star Elisha Cuthbert says she'll be ready. "I think it's all pretty much there and ready to go, it's just a matter of when [Kiefer Sutherland] wants to do it," she told THR. "I'm confident that it will happen because, for a long time, I heard nothing about it and then got a call. They basically said be on standby, and of course I'd be thrilled to do it." [via HuffPo]
Even as Saturday Night Lives adds a new featured player in Kate McKinnon, the sketch show could be preparing to lose three of its longtime stars. According to two sources who spoke with Us Weekly, Kristen Wiig, Andy Samberg, and Jason Sudeikis are looking to exit after the end of the current season. For what it's worth, Wiig and Sudeikis' rep insists that "No decisions are made until the season is over." Considering how well all three are doing in their feature film careers, though — and how long each of them have been on the series — I'm thinking that the time is ripe for their departure. [via Vulture]
The CW has yet to give an official renewal to Supernatural, but if and when the series returns (and it probably will) it'll be under some new leasership. Jeremy Carver, co-showrunner of Syfy's Being Human, is set to board Supernatural as executive producer and co-showrunner, replacing Sera Gamble. Though Gamble's been with the series since its early days, starting out as a writer in Season 1, she reportedly declined to renew her contract. Robert Singer, who along with Gamble has been serving as co-showrunner for the past two seasons, remains on board.
Carver's arrival to the series is actually a return, since he worked as a co-producer on Supernatural in 2009 and 2010 before leaving for Being Human. Carver will remain an executive producer on Being Human, though his former co-showrunner (and current wife) Anna Fricke will now take over as that series' only showrunner. [Deadline]
Veronica Mars creator Rob Thomas, This American Life host Ira Glass, and Owen Wilson are teaming up at HBO for the tentatively titled Thrillsville, a new drama based on a This American Life segment. The drama will fictionalize the real-life tale of James Spring, a one-time meth smuggler turned family man and copywriter. As his 40th birthday approaches, Spring decides that he wants to do something big to help others. He takes it upon himself to find and rescue two girls who'd been kidnapped and taken to Mexico by suspected murderers involved with the drug trade. It's not exactly the return of Veronica Mars, but I'll take what I can get. [Variety]
Funny or Die's Drunk History could be moving from your computer monitor to your television screen. Comedy Central has just ordered a half-hour pilot based on the popular web series, which features celebrities doing drunken reenactments of historical events. The TV version, called Drunk History Across America, will also include "travel elements and interviews with city locals who will drunkenly narrate local and personal history which, too, will be re-enacted by guest actors."
Gary Sanchez's Will Ferrell, Adam McKay, and Chris Henchy are on board to executive produce, along with creator Derek Waters, director Jeremy Konner, and Owen Burke. Check out a web episode featuring Ryan Gosling and Eva Mendes below:
[Deadline via Screen Crush]
Breaking Bad's fifth and final season won't kick off for another several months yet, but a new script that's been leaked online could offer a comprehensive early look at the premiere episode — that is, if it's actually the real thing and not just an especially well written piece of fanfiction.
I haven't seen any of the supposedly leaked script, titled "Truckers Deluxe," myself and I won't give away any potential spoilers here, but Screen Crush reports it "certainly feels enough like a Breaking Bad episode to be the genuine article," noting that one new character introduced in the script seems to fit with a genuine casting call posted in recent weeks. Click here to get a look, but be warned that (obviously) potentially major spoilers abound. AMC has yet to issue an official response.
Although he's still best remembered for playing a cop on NYPD Blue, Jimmy Smits will be switching sides in his next small-screen role. Smits has joined FX's Sons of Anarchy for a major, season-long arc as Neron "Nero" Padilla, a gangbanger and a mentor for lead character Jax (Charlie Hunnam). Nero is described as a dark, dangerous, "heavily tattooed" type with "an exit strategy." Sons of Anarchy will return for its fifth season this fall. [Deadline]