Sequel Bits: Robert Englund Discusses The Freddy Krueger Prequel That Could've Been, Plus: 'Star Trek 2', 'X-Files', 'Avatar', 'Piranha 3DD', 'Aliens: Colonial Marines'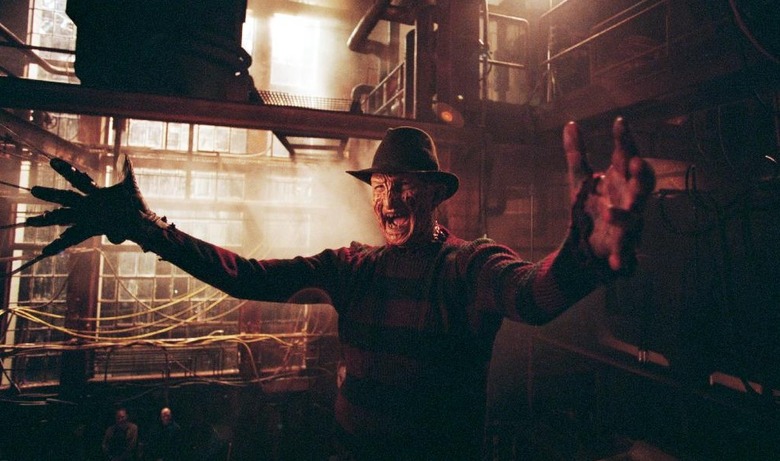 Everyone has something to say in today's Sequel Bits, whether it's Star Trek 2 co-writer Alex Kurtzman on the magneticism of Benedict Cumberbatch, Robert Englund on Freddy Krueger's backstory, or Frank Spotnitz on the possibility of another X-Files movie. Also after the jump:
Details on the new (in-canon) video game sequel to Aliens
James Cameron and Jon Landau have big plans for the Avatar franchise
The MPAA stamps Piranha 3DD with a well deserved R rating
Without spoiling anything, the challenge is that you don't want to jump too far ahead and assume that just because they got together they're all comfortable with each other. They're still all working out their kinks and still becoming the bridge crew that we remember from the series. That's still very much alive and look, any good sequel is about the challenge that the group faces in order to become the unified team and I think that that challenge in this movie is going to be hopefully amazing.
Unsurprisingly (but happily), Kurtzman also had nothing but high praise for J.J. Abrams ("J.J. as usual is crushing it") and franchise newcomer Benedict Cumberbatch ("He's so magnetic"). Head over to MTV to read more of Kurtzman's comments. [via Trek Movie]
The jury's still out on whether Prometheus should be considered a prequel to Alien, but Aliens and Alien 3 are definitely getting a sequel in Aliens: Colonial Marines. The video game, developed by Gearbox Software and published by Sega, is the first from the Alien franchise to be considered canon by 20th Century Fox. Though it's set after the events of Alien 3, Colonial Marines is more strongly connected with the storyline of Alien and Aliens, as players will be investigating the fates of the characters in Aliens and examining the ruins of Hadley's Hope.
Gearbox president Randy Pitchford spoke a little bit about how Colonial Marines will bridge the gap between Aliens and Alien 3:
After this game, Alien 3 is a better film. I think [Alien 3] is a great film, but I think that when we came off of Aliens, some of us wanted something different. Also, there were some weird things that we didn't quite make sense of. Inconsistencies with the canon that were created. And it turns out that they're not inconsistencies – there are reasons for things. And we get to be the ones that get to connect all that up and make it clear [...] The fact that we can do it in video game form is just amazing.
There's plenty more where that came from, so head to Movies.com and Joystiq for the full rundown on what we can expect from the game. Aliens: Colonial Marines will launch this fall.
The first Avatar was such a hit back in 2009 that it's a little surprising that we haven't already been flooded with a million Avatar spin-offs. But that'll be changing soon, of course. In addition to the two movie sequels, there's also a book and a theme park attraction on the way — and, if things go well, comic books, a TV series, and some sort of animated project. Director James Cameron and producer Jon Landau recently revealed some of their plans for the future of the franchise:
The novel is something that will unlock the door for us to develop the property in other ancillary markets – graphic novels, television, animation. Entertainment today goes beyond any one medium and with Avatar we have an opportunity to continue and expand the story of the world in all of these other media.
Read the rest of their interview, in which the pair also talk about their current work on Avatar 2, at Bleeding Cool.
The Robert Englund era of the A Nightmare on Elm Street franchise ended when Jackie Earle Haley took over as Freddy in 2010's remake, but Englund hasn't stopped thinking about what could've been. In a conversation with Moviehole, Englund offered details on what we would've seen in First Kills, the Freddy Krueger prequel that never got off the ground:
There was a great kind of 'Portrait of a Serial Killer' kind of docudrama script around, where you see Freddy and his first kills and the courtroom scenes where these really horrible, terrible lawyers keep getting him off; great corrupt lawyers getting him off and then the vigilante parents. Finally in the climax, burning him alive, and maybe you see him manifest, and show up on Elm Street at the very end, where his sort of revenge, reign of terror would be hinted at.
Krueger's origins aren't totally known, as they've been glimpsed before in Freddy's Dead: The Final Nightmare and an episode of "Freddy's Nightmares." First Kills would've explored the monster's roots much further, but it never got past the script stage. Would you have been curious to see where it all started, or do you think we already know all we need to about Freddy's past? [Blastr]
Piranha 3DD will follow in its predecessor's footsteps with an R rating, thanks to "sequences of strong bloody horror violence and gore, graphic nudity, sexual content, language and some drug use." The MPAA's been catching a lot of flack for its questionable judgments as of late, but I think we can all agree that Piranha 3DD's R-rating sounds well earned. And that the film will be all the better for it, because honestly, what would even be the point of a PG-13 Piranha 3DD? [STYD]
Talk of another X-Files movie has been swirling around for years now, with nothing to show for it. But at least one person potentially involved with the project is still holding out hope. Writer Frank Spotnitz told Screen Daily:
There is a very active and relentless fan campaign for a last movie. I do feel like it would be a terrible shame if that didn't happen. It feels wrong not to give it an ending around the alien colonisation of earth. David [Duchovny] and Gillian [Anderson] feel the same. I have a clear idea of how it would go and I've been talking to Chris Carter about it for a long time. I'll keep banging the drum whenever I meet the Fox guys.
Screen Daily indicates that the movie will be a sequel to 1998's The X-Files: Fight the Future rather than 2008's less successful The X-Files: I Want to Believe, but either way: Is there really that much public demand for another X-Files movie? I've never been among the diehard, so if you are, feel free to tell me how wrong I am. [Bloody Disgusting]