'Savages' Trailer: Oliver Stone's Colorful Drug War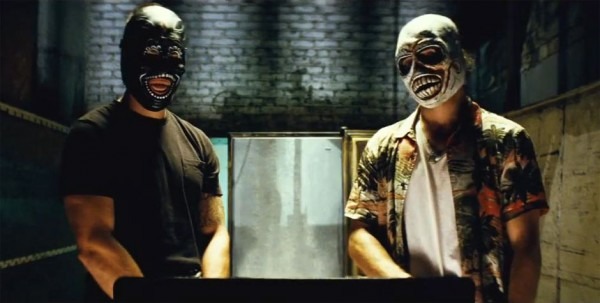 Yesterday we saw the first bit of footage from Oliver Stone's new film Savages, in which the girlfriend (Blake Lively)of two pot growers (Aaron Johnson and Taylor Kitsch) is kidnapped by a Mexican drug cartel, the better to get said growers to work for the bigger outfit.
The film features the sort of cast you'd expect to see Stone pull together: in addition to the leads there are Benicio Del Toro, Uma Thurman, John Travolta, Demian Bichir, Salma Hayek, Joel David Moore and Emile Hirsch, and it is shot in a style reminiscent of a few of his lurid '90s entries such as U-Turn and Natural Born Killers. (Speaking of '90s films, is Salma Hayek cosplaying as Thurman's Pulp Fiction character Mia Wallace?)
Now we've got the full trailer, which sets up the story, offers a little bit of sex and violence, and shoves a knife through John Travolta. Check it out below.
MTV has the trailer. (Which might be region-locked; we'll get an alternate embed up when possible.)
Aaron Johnson, as the dreadlocked Ben, is almost unrecognizable in some of these shots — you might not even guess that he's the same guy who played Kick-Ass. So that's fairly interesting; I want to see the film for his performance alone. And Travolta looks like he might provide a couple of good moments, which would be refreshing.
The rest of the trailer, though... it's a little bit sleazy and possibly slightly uncomfortable, but those aren't bad things. And then it suggests that the movie might just be trashy, which is a lot less interesting. I still mostly like the look, though, especially in the second half of the trailer; I think Stone does it better than Tony Scott does.
(And for those who've read the book, is there some economic allegory going on here? The mention of 99% and 1% stands out in the trailer voiceover, and given that the story angle has small-timers pitted against a big cartel makes me wonder if some of the action and sex is a smokescreen for deeper script concerns.)
Savages opens on July 6.
Three-time Oscar®-winning filmmaker Oliver Stone returns to the screen with the ferocious thriller Savages, featuring the all-star ensemble cast of Taylor Kitsch, Blake Lively, Aaron Johnson, John Travolta, Uma Thurman, Benicio Del Toro, Salma Hayek, Emile Hirsch and Demian Bichir.  The film is based on Don Winslow's best-selling crime novel that was named one of The New York Times' Top 10 Books of 2010.
Laguna Beach entrepreneurs Ben (Johnson), a peaceful and charitable Buddhist, and his closest friend Chon (Kitsch), a former Navy SEAL and ex-mercenary, run a lucrative, homegrown industry—raising some of the best marijuana ever developed.  They also share a one-of-a-kind love with the extraordinary beauty Ophelia (Lively).  Life is idyllic in their Southern California town...until the Mexican Baja Cartel decides to move in and demands that the trio partners with them.
When the merciless head of the BC, Elena (Hayek), and her brutal enforcer, Lado (Del Toro), underestimate the unbreakable bond among these three friends, Ben and Chon—with the reluctant, slippery assistance of a dirty DEA agent (Travolta)—wage a seemingly unwinnable war against the cartel.  And so begins a series of increasingly vicious ploys and maneuvers in a high stakes, savage battle of wills.