All-Ages 'Ted' Trailer: Yep, That's A Teddy Bear Driving A Car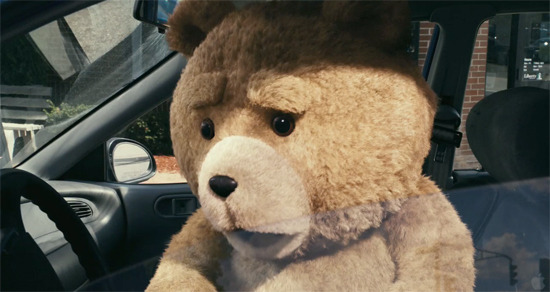 The first trailer for Seth MacFarlane's live-action feature directing debut Ted was eager to prove one thing, and one thing only: the movie can be dirty. Now there is an all-ages trailer that worries more about presenting the story and convincing us that there are jokes in the movie that work without super-lewd sexual references and abundant cursing. Some of these jokes, for example, only have slightly lewd content.
Still, this makes the story of Mark Wahlberg trying to grow up, and potentially away from his magically animated childhood toy look pretty cute and goofy. Check it out below.
The little bits we see of actual story in the trailer suggest that Ted may be a reflection of Wahlberg's character, John — essentially an extension of his own fears and id. That even leaves room for dick jokes.
Apple has the trailer. Ted opens on July 13.
Family Guy creator Seth MacFarlane brings his boundary-pushing brand of humor to the big screen for the first time as writer, director and voice star of Ted.  In the live action/CG-animated comedy, he tells the story of John Bennett (Mark Wahlberg), a grown man who must deal with the cherished teddy bear who came to life as the result of a childhood wish...and has refused to leave his side ever since.