Ashton Kutcher To Play Late Apple Co-Founder Steve Jobs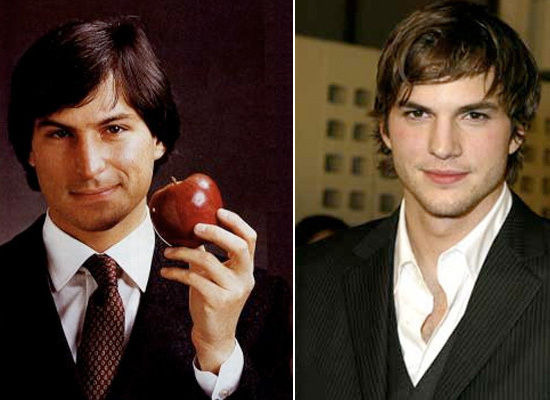 This sounds like an April Fools' joke, but Jeff Sneider of Variety insists that it is not. ("The timing of the story is unfortunate but this information is CONFIRMED," Sneider tweeted.) So here's how the late Apple co-founder will hit the big screen: via the grinning mug of current Two and a Half Men and former That '70s Show star Ashton Kutcher, who will play Steve Jobs in an indie simply called Jobs.
Variety says that Joshua Michael Stern (Swing Vote) will direct from a script written by Matt Whiteley, and that the film will follow Jobs' life from "wayward hippie to co-founder of Apple, where he became one of the most revered creative entrepreneurs of our time." Will the film follow Jobs into his later days, meaning that we'll see Kutcher in severe makeup to suggest Jobs' illness? We don't know.
The film will begin to shoot in May, when Kutcher is on his Two and a Half Men hiatus.
Kutcher has done some work that goes beyond the bounds of TV and romantic comedy, but despite being better than you might expect in a few films (Bobby comes to mind) he's not generally thought of as a guy who can capture a well-known personality on screen.
The resemblance between Kutcher and a young Jobs has been noted more than once. [1,2] The header image and the one below have both been floating around at least since news of Jobs' passing and the inevitable beginning of biopic talk. I'll have to see footage, however, before being able to see this choice as something based more upon Kutcher's ability to play the role than name recognizance and superficial similarity.