'The Giant Mechanical Man' Trailer: Jenna Fischer Falls For A Robot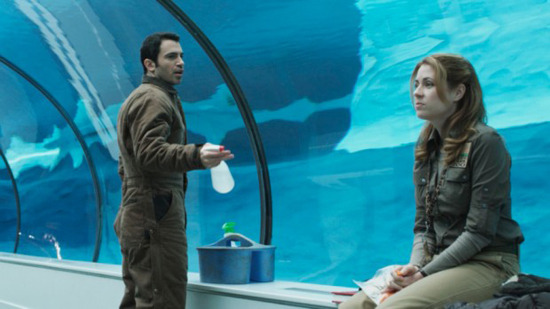 I am sure that all of you will have noticed the return of a blight to our streets. I refer, of course, to the extremely irritating... living statue. I've got a feeling that The Giant Mechanical Man wouldn't play well in Edgar Wright's heavily fictionalized home town of Sanford. Because while a giant silver-painted robot man isn't quite as irritating as a living statue, it's pretty close.
And yet, that's what Jenna Fischer seems to fall for in The Giant Mechanical Man, a romantic comedy written and directed by Lee Kirk (Fischer's husband) and also featuring Chris Messina, Malin Akerman, and Topher Grace. It's Grace, wearing a wig and spouting self-help platitudes more irritating than any living statue, that comes closest to stealing the show in the trailer that you can find below.
That looks like a nice try, but there isn't much in this trailer that makes the film seem like more than a trifle. The trailer suggests the movie is basically a big collection of indie comedy tropes. That doesn't have to be a deal-breaker, but it isn't a big draw, either.
The Giant Mechanical Man doesn't yet have a release date. The film also features Lucy Punch (who did play well in Sanford, so long as she wasn't laughing), Bob Odenkirk, and Sean Gunn.
THE GIANT MECHANICAL MAN is an offbeat romantic comedy about two outsiders — a misunderstood street performer (Chris Messina) and the soft spoken zoo worker who falls for him. Akerman will play Fischer's well-meaning sister who pushes her towards dating a pompous motivational speaker, played by Topher Grace.