D.J. Caruso Will Direct 'Invertigo,' Which Has Nothing To Do With Alfred Hitchcock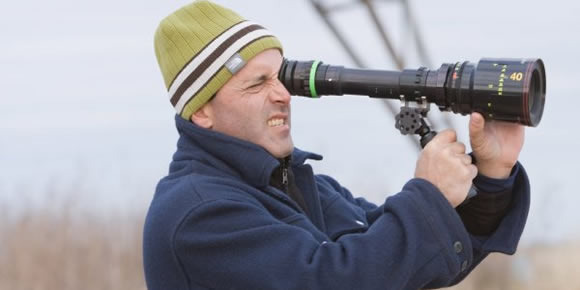 Director D.J. Caruso may have begun to establish himself with the film The Salton Sea and some episodes of The Shield, but his real big break came thanks to the success of Disturbia in 2007. The film was a modern teen-targeting thriller that riffed on Alfred Hitchcock's classic movie Rear Window. It nearly established a pattern of films that are modern updates of other Hitchcock thrillers, though so far we've seen a lot more of those go into the development process than we've seen emerge as actual films.
Caruso, meanwhile, went on to Eagle Eye, I Am Number Four, and his recently wrapped
Goat Island, a sort of passion project based on novel The Goats.
Now Caruso has a new project, and it sounds like another Hitchcock riff, as the title is Invertigo. But the sci-fi thriller, written by Ehren Kruger and Bradley Cramp, actually features a crashed satellite, inverted gravity in NYC, and big effects.
reports this extensive synopsis:
A long lost NASA space probe mysterious crash lands in New York City, apparently under the influence of a "dark energy" force that drives the universe's expansion. But the scientific curiosity soon becomes a disaster of cataclysmic proportions as Earth's own gravity is disrupted and eventually reversed, causing skyscrapers and bridges to be ripped from the ground and rivers to rain from the sky. A team led by the Office of Emergency Management supervisor is forced to mount a desperate mission into upside-down Manhattan to avert the entire planet's destruction.
It's kind of an absurd premise, frankly, and with Kruger (Transformers: Dark of the Moon) scripting, it's going to take some footage to make this seem like more than a movie Roland Emmerich didn't get around to making. Sure, it could be a visual powerhouse, but that sort of thing is pretty plentiful lately.
Sony has a March 7 2014 release in mind, but there is enough prep work to be done that Caruso likely won't actually make the film until 2013. Whether he'll have enough time in the meantime to do one of his other attached projects (A Walk Among the Tombstones, or
) remains to be seen. For those who didn't want to see Caruso make Preacher, this could be very good news.