Go Behind The Scenes Of Ron Burgundy's 'Anchorman 2' Announcement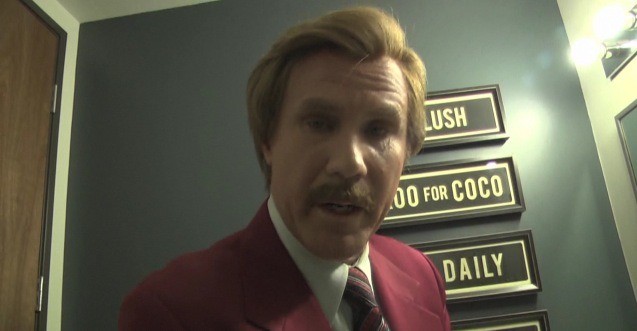 Things escalated quickly Wednesday evening when Will Ferrell, I'm sorry, Ron Burgundy, took the stage on TBS's Conan and announced that Paramount had greenlit Anchorman 2. Speculation ran rampant of who would return, what the story would entail and all that good stuff. We quickly found out Adam McKay will once again direct and also co-write with Ferrell, plus the male members (pun intended) of the news team had all signed to return: Steve Carell, Paul Rudd and David Koechner. There is still no word, however, if the memorable characters played by Christina Applegate, Fred Willard, Chris Parnell, and Vince Vaughn will reappear.
So far, that's about it. And now Funny or Die has revealed this short video documenting Burgundy behind the scenes of the big announcement. It adds literally nothing to the discussion but would we have it any other way when the topic is Ron Burgundy?
Thanks to Funny or Die for the video.
I kinda wished Ron was his usual, R-rated self in this clip but this is 2012, not 2004. It'll happen. Paramount has already launched an official Ron Burgundy Twitter account and you can be sure a property like this will be promoted with plenty of viral videos, set photos and more. Anchorman is just too ripe a franchise to not exploit to the fullest.
As for the actors who have not officially been announced, I'd imagine it's only a matter of time. The big fish to land were Carell, Ferrell and Rudd and that's been done. Without a script no less. It's likely McKay and Ferrell have yet to decide exactly who will fit in with the new story they must now write.
Do you think Veronica Corningstone is still in Ron's life or did he screw that up? Will Baxter still be around? Has he lost his job as a national news anchor? We'll find out soon enough.