'People Like Us' Trailer: 'Transformers' And 'Cowboys & Aliens' Writers Segue Into Drama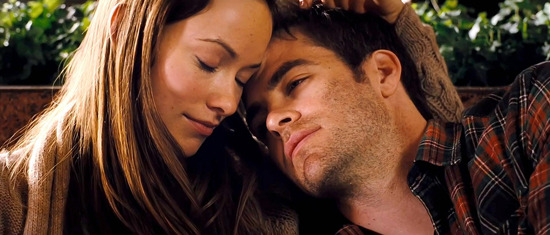 Alex Kurtzman and Roberto Orci made their name as a team crafting geek-friendly TV like Alias and Xena: Warrior Princess, before moving on to properties like the Transformers films, Mission: Impossible, the Star Trek reboot and the 'swing and a miss' film Cowboys & Aliens.
Now Alex Kurtzman has directed his first feature, People Like Us, written by the duo with Jody Lambert. (The movie was formerly called Welcome to People.) The movie isn't a genre film, based on a licensed property, or anything along those lines. It is a story about the son (Chris Pine) of a father who maintained two families, and had kids with both. When his father dies, Pine's character has to figure out how to handle a new relationship with Frankie (Elizabeth Banks), his half-sister from dad's other family.
Check out the trailer below.
You can see that Kurtzman and Orci got some assistance from people they've worked with on other films (Pine, and Jon Favreau) and I like that they've tried to do something out of their regular zone. Frankly, after Cowboys & Aliens, a break from that regular zone seems like a really good idea. But will this one work? I can't tell from here, but I'd much rather watch Pine in something like this than another This Means War.
People Like Us opens on June 29. It also features Olivia Wilde, Michelle Pfeiffer, Mark Duplass, Devin Brochu and more. The trailer comes via Moviefone.
From DreamWorks Pictures comes 'People Like Us,' a drama/comedy about family, inspired by true events, starring Chris Pine ('Star Trek') as Sam, a twenty-something, fast-talking salesman, whose latest deal collapses on the day he learns that his father has suddenly died. Against his wishes, Sam is called home, where he must put his father's estate in order and reconnect with his estranged family. In the course of fulfilling his father's last wishes, Sam uncovers a startling secret that turns his entire world upside down: He has a 30-year-old sister Frankie whom he never knew about (Elizabeth Banks). As their relationship develops, Sam is forced to rethink everything he thought he knew about this family–and re-examine his own life choices in the process.