'Prometheus' "Should Be" Rated R, Says Ridley Scott; Plus New Image Scans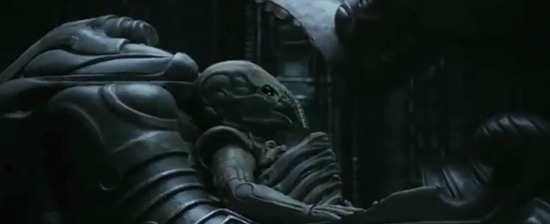 Empire has a cover story on Ridley Scott's Prometheus, and thanks to that feature we've got a batch of new images, and some new info about how Ridley Scott is approaching the rating of the film.
You might remember that, last year at Comic Con, Scott said that he planned to create PG-13 and R-rated cuts of the film, as he does for most of his films, and let the studio decide which to release. He's still in the middle of that process, and nothing has been submitted to the MPAA as yet. The new statements from Scott (which, given Empire's lead time, could actually be a couple months old now) indicate that there is still a last decision to be made about the final rating. But he clearly favors the R.
Here's what Scott said to Empire,
Right now I don't know where we are. The question is, do you go for the PG-13, or do you go for what it should be, which is R? Financially it makes quite a difference, or the risk makes quite a difference, and yet you also have to apply the question — if you soften it, will you financially suffer? As opposed to just going for the throat and gambling. Essentially, it's kinda R. The little bastards will still get in anyway, so what's the difference? It's not just about blood, it's about ideas that are very stressful. I'm not an idiot, but I'll do everything I can to get the most aggressive film I can.
In addition, we've got these scans of the images that ran on Empire's pages. No doubt we'll get high-res versions in the next few days, but for now these, via Prometheus News, will do nicely.
Damon Lindelof wrote Prometheus; it stars Noomi Rapace, Michael Fassbender, Charlize Theron, Idris Elba, Sean Harris, Kate Dickie, Rafe Spall, Logan Marshall-Green, and Guy Pearce. The film will hit theaters June 8, 2012.
Ridley Scott, director of "Alien" and "Blade Runner," returns to the genre he helped define. With PROMETHEUS, he creates a groundbreaking mythology, in which a team of explorers discover a clue to the origins of mankind on Earth, leading them on a thrilling journey to the darkest corners of the universe. There, they must fight a terrifying battle to save the future of the human race.