Streaming Bits: Netflix Passes On Terra Nova But Could Save The River, Google Play Launches Movie Rentals, HBO Go Launches On XBox Live (But Not If You Have Comcast Or Time Warner)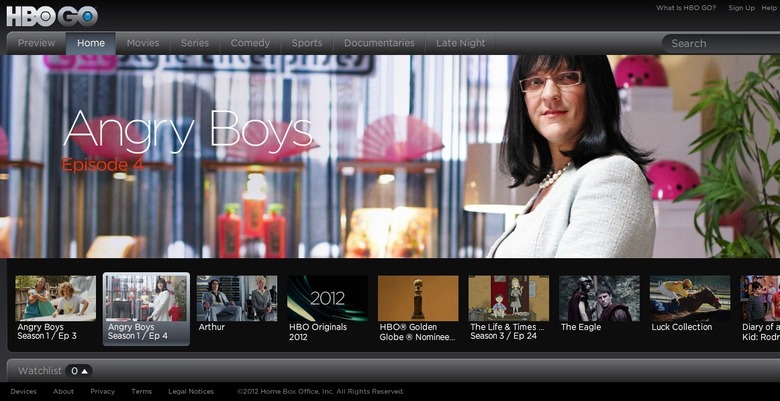 We live in a streaming world, and here are some of the latest updates. After the jump read about:
Netflix has officially passed on continuing the cancelled Terra Nova, but might jump on The River.
Google Play has now entered the movie rental business.
XBox Live now has the HBO Go app but only if you have the correct cable provider.
With Lilyhammer, House of Cards and Arrested Development, Netflix is making it pretty obvious they're putting a huge concentration on exclusive content. And as more and more shows premiere and fail on networks, Netflix sees opportunities to swoop in and pick something up with a built-in audience. They had been considering the recently canceled Fox show Terra Nova, but have now officially decided not to continue that series.
Next on their plate is ABC's The River, another serialized genre show that isn't doing that well on its network. Terra Nova had higher ratings but was also more expensive to produce. So there's a possibility that The River, which hasn't been cancelled just yet (but its only a matter of time) could end up on Netflix. Thanks to Deadline for both of these updates.
The artist formerly known as the Android Market, Google Play, recently expanded from simple mobile app storefront to full blown internet service much like iTunes and the Apple App Store. And, much like iTunes, the service is now offering movie rentals ranging anywhere from $1.99 to $9.99 depending on how new a film is. Just another way to watch movies when you want them, where you want them. Thanks to Cinemablend for the heads up.
Finally, HBO Go is now available on XBox Live meaning you can watch every episode of every HBO series ever, at any time, as long as you pay for HBO through your cable provider. This is a great thing as shows such as The Wire, The Sopranos and others are some of the most sought after in the streaming realm. However, there's a catch. Not all cable providers are willing to let their subscribers use the new interface. So, if you are a DirectTV user who has HBO, you're all good. But if you have Comcast or Time Warner, you aren't. Be sure to check before you get excited about rewatching Game of Thrones on your XBox this weekend. You can read more about the app and the restrictions at Mashable.