'Neighborhood Watch' Promos Pulled From Florida In Wake Of Trayvon Martin Killing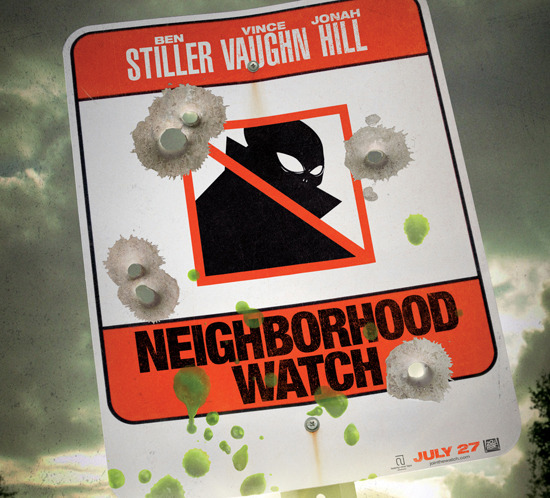 Days ago a friend  brought up a question that I didn't give much thought to at the time: how soon might Fox take action to rename and/or change the marketing for the Akiva Schaffer-directed sci-fi comedy Neighborhood Watch, starring Ben Stiller, Jonah Hill and Vince Vaughn? The film seems pretty innocuous, as it portrays a group of neighborhood guys who form a local watch group to get out of the house, but find themselves facing a global threat.
The problem being that many in the US are consumed with anger over the shooting death of Florida teen Trayvon Martin by an overzealous real-life neighborhood watch member. (In fact, the man who fatally shot Martin wasn't even a member of a truly legitimate watch crew.) Now THR reports that Fox has pulled the early marketing materials for the film (the teaser trailer and poster) out of Florida, and is "quickly moving on to the second phase of its campaign for the star-studded comedy."
Studio reps tell the trade there are no plans to change the film's July 27 release date, and it sounds like plans are to keep the title, which in truth was set long before the terrible shooting took place. A studio rep is quoted saying,
We are very sensitive to the Trayvon Martin case, but our film is a broad alien-invasion comedy and bears absolutely no relation to the tragic events in Florida. The movie, which is not scheduled for release for several months, was made and these initial marketing materials were released before this incident ever came to light. The teaser materials were part of an early phase of our marketing and were never planned for long-term use. Above all else, our thoughts go out to the families touched by this terrible event.