He's No Big Willie; Listen To Pitbull's Theme For 'Men In Black 3'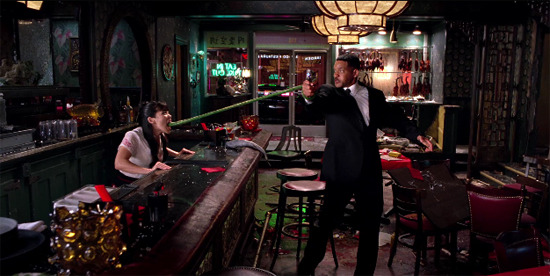 One of the best moves all involved made with the original Men in Black film was to have Will Smith record a simple and catchy as hell theme song. It's a lot easier to sell tickets to a movie when people can't help themselves humming the film's title all day long.
Smith was a driving force behind Men in Black 3, and though he hasn't had an album on shelves since Lost and Found in 2005, we know that Smith went back into the studio last fall, and so there was reason to expect that he would crank out a theme for the third MiB movie.
That didn't happen. Instead, the producers turned to Cuban-American rapper Pitbull, and you can hear the slight track he turned in below.
Thank or blame ComingSoon for the head's-up on this one. Pitbull certainly has the lazy/laid back thing going, but nothing much comes of it. It's not a patch on the light, funky bounce of Smith's original theme. And seriously, "don't you know I don't give a number two"? That's just dire.
Here are Will Smith's two MiB themes, for reference.
Men In Black III opens on May 25th.