Martin Campbell Takes Over As Director Of James Cameron's 'The Dive'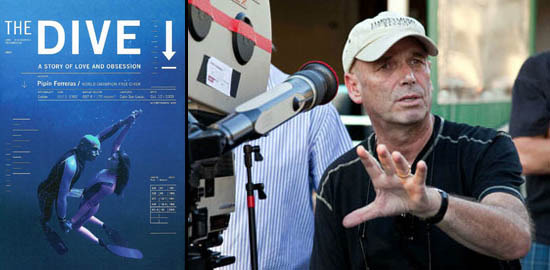 Back in 2008 and 2009 James Cameron talked here and there about directing The Dive, a film centered around the love between free divers Francisco "Pipin" Ferraras and his wife Audrey Mestre, and the record-setting attempt that claimed Mestre's life.
But thanks to other commitments Cameron has backed away from directing the film and will now act in a producer capacity as Martin Campbell (Goldeneye, Casino Royale, Green Lantern) occupies the director's chair.
Deadline says that Cameron will produce with Lightstorm Entertainment partners Jon Landau and Rae Sanchini, with Barry Josephson. The picture could be a good rebound from Green Lantern for Campbell — after that tentpole mess of indecision and proliferating script drafts, anything self-contained and more realistically powerful has to be refreshing.
The Dive tells the story of Ferraras and Mestre, who would plunge to incredible depths with only one breath of air. Mestre held a world record for free diving, but when trying to dive to 557.7 feet in order to break her own record, she lost her life.
On October 4, 2002, with a dive team under her husband's supervision, she made a practice dive off Bayahibe Beach in the Dominican Republic to the unheard of depth of 166 meters (545 ft). After more deep dive practices, eight days later she prepared to attempt a dive to 171 meters but at the bottom a problem developed with the lift balloon as she started her ascent. A dive that should have been no more than three minutes resulted in her remaining underwater for more than eight and a half minutes. By the time her husband was able to bring her unconscious body to the surface it was too late and she was pronounced dead at a hospital on shore.
There are many cinematic elements to this story, not the least being the potential for a starkly serene beauty as the two people make their dives. Cast it well, and this could be a gut-wrenching story. But as with any story where someone pushes themselves too far in the quest of something as abstract as a world record, there's also the potential for the film to reflect the less-inspiring aspects of the story. I'm not captivated by the tale overall, but I'm curious to see where the film goes.