High Resolution Desktop Wallpaper-Quality 'Prometheus' Images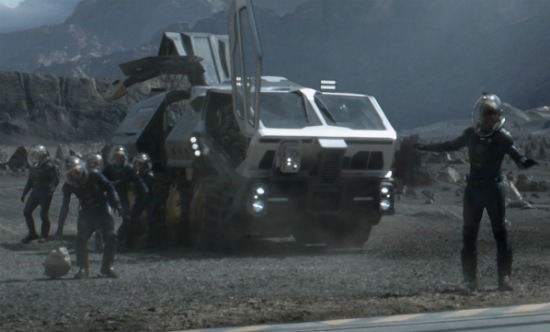 The last five days have been so full of new information, footage and images from Ridley Scott's Prometheus it almost feels like the movie is opening this weekend. Unfortunately, it's not. We'll have to wait until June 8 for that, but fans who have been poking around the newly launched website ProjectPrometheus.com have begun uncovering high resolution images from the film. Check them out, as well as some of the other insanely detailed information coming online via the viral campaign, after the jump.
FirstShowing.net has been ahead of the game with this viral over on ProjectPrometheus.com, which just revealed these two images.
The first is, obviously, the Prometheus itself. The second seems to be from the back of the Prometheus after its landed.
Besides ProjectPromethueus.com, which revealed the above images thanks to some detective skills detailed at this Tumblr, the Weyland Industries site that launched with the TED Talk has some really insane information, graphs and charts detailing their studies at weylandindustries.com/#/information. It's worth visiting just to see if you can find some new and exciting things that are certainly buried in that page.
Prometheus which will be released June 8. It stars Noomi Rapace, Michael Fassbender, Charlize Theron, Idris Elba, Sean Harris, Kate Dickie, Rafe Spall, Logan Marshall-Green, Guy Pearce, and Patrick Wilson. Here's the official plot description:
Ridley Scott, director of "Alien" and "Blade Runner," returns to the genre he helped define. With PROMETHEUS, he creates a groundbreaking mythology, in which a team of explorers discover a clue to the origins of mankind on Earth, leading them on a thrilling journey to the darkest corners of the universe. There, they must fight a terrifying battle to save the future of the human race.