Akiva Goldsman Chooses Jessica Brown Findlay Of 'Downton Abbey' As 'Winter's Tale' Lead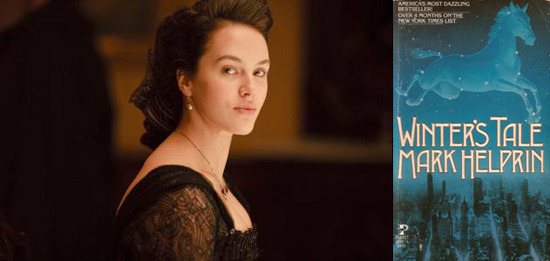 Thanks to her performance as Lady Sybil Crawley in the two seasons of Downton Abbey, which has become an unexpected smash hit for PBS in the US, Jessica Brown Findlay is on the cusp of being far more well-known than her otherwise limited on-screen resume would lead you to expect.
Her sharp and Abbey-related career upswing is very likely what helped bring Findlay to the attention of writer producer and now director Akiva Goldsman, who is about to make his feature directorial debut with an adaptation of Mark Helperin's novel Winter's Tale. Goldsman has now chosen Findlay to be the woman at the center of the story, who falls in love with a thief who breaks into her mansion home.
Deadline says Findlay got the role over quite a few other actresses, and that Aaron Johnson and Garrett Hedlund are the frontrunners to play the thief. Russell Crowe has a part in the film, as well (thanks to his association with Goldsman on A Beautiful Mind) and Will Smith is also rumored for a small part.
Crowe is playing Pearly Soames, leader of a criminal gang called the Short Tails. While Tom Hiddleston (Thor) and Benjamin Walker (Abraham Lincoln: Vampire Hunter) were being tested to play the male lead, it looks like now the role might go to Hedlund or Johnson. The character is Peter Lake, an immigrant orphan who falls in with the Short Tails, but quickly falls out again, and spends much of the story attempting to elude Soames and his gang.
And then Findlay will play Beverly Penn, a young woman dying of consumption who Peter Lake encounters while trying to rob the mansion in which she is ensconced. Bella Heathcote (In Time, Dark Shadows), Elizabeth Olsen (Martha Marcy May Marlene), Gabriele Wilde (Three Musketeers) and Sarah Gadon (David Cronenberg films A Dangerous Method and Cosmopolis) were all said to be in the running for the role at one point.
Warner Bros. originally gave Goldsman the thumbs-up to make the movie at $75m, but budget became an issue and not long ago the triple-hyphenate slashed about $20m from the cost. We don't know what was cut, but the novel has quite a few elements that could be quite costly. The story is set, as I've said before, in an alternate, mythic New York City at the turn of the 20th century. It has magic and fantasy, a guardian angel in the form of a white horse, a cloud wall and rainbow bridge and other unusual elements.
New York City is subsumed in arctic winds, dark nights, and white lights, its life unfolds, for it is an extraordinary hive of the imagination, the greatest house ever built, and nothing exists that can check its vitality. One night in winter, Peter Lake—orphan and master-mechanic, attempts to rob a fortress-like mansion on the Upper West Side. Though he thinks the house is empty, the daughter of the house is home. Thus begins the love between Peter Lake, a middle-aged Irish burglar, and Beverly Penn, a young girl who is dying. Peter Lake, a simple, uneducated man who, because of a love which at first he does not fully understand, is driven to stop time and bring back the dead.