TV Bits: Eddie Izzard Is Grandpa In 'Munsters' Reboot, Plus: 'Veep', 'Girls', 'American Horror Story', 'Magic City', 'Mad Men', Jason O'Mara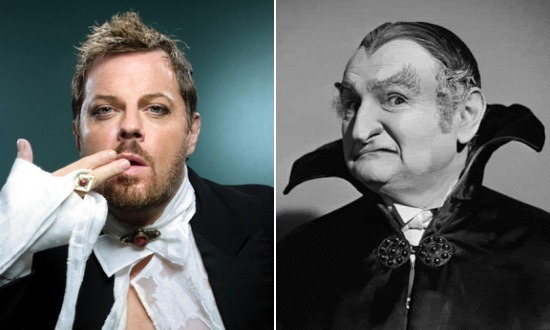 Yes, that Munsters reboot is still happening, and now it even has a star. After the jump:
Eddie Izzard heads to Mockingbird Lane
Mad Men messes up a tiny period detail
Maroon 5 frontman Adam Levine is an actor now
Terra Nova star Jason O'Mara finds a new job
Starz has already renewed Magic City
HBO has new posters for Veep and Girls
Although AMC's Mad Men is known for its painstaking attention to period-specific detail, even they make mistakes once in a while. Critics recently noticed one such slip-up in advance DVD copies of the premiere, which featured Burt Bacharach and Hal David's "The Look of Love" over its end credits. The tune was first released in January 1967, several months after the episode's spring 1966 setting.
Upon realizing their error, the Mad Men team quickly swapped out "The Look of Love" and replaced it with another, less anachronistic song for the episode's March 25 debut. "Although we take license for artistic purposes with the end-title music, we never want the source music to break from the time period we are trying to recreate," said show creator Matthew Weiner in an email to the New York Times.
Really, even their mistakes underline exactly how seriously Mad Men takes historical accuracy. I doubt most other period shows would've drawn as much criticism for a song choice a few months out of line, let alone gone through the trouble of finding another song to sub in. [Stereogum]
Adam Levine first rose to fame as the lead singer of Maroon 5, but thanks to NBC's The Voice, he's become a reality TV star as well. And now his small-screen career is taking another step forward, into scripted programming. Levine is in final negotiations to appear in season 2 of FX's American Horror Story as a contemporary (as opposed to long-dead, I guess) character and one-half of a couple known as "The Lovers."
Levine joins returning stars Jessica Lange, Zachary Quinto, Sarah Paulson, Evan Peters, and Lily Rabe, who'll be playing a fresh set of characters rather than reprising their Season 1 roles. The new season, which co-creator Ryan Murphy says will take place in an East Coast "horror institution," will premiere in October. [EW]
Terra Nova star Jason O'Mara may just have a reason to hope that his prehistoric drama won't get picked up by another network after all. O'Mara is now set to join Dennis Quaid, Michael Chiklis, and Carrie-Anne Moss in CBS' untitled Ralph Lamb pilot, from Goodfellas writer Nicholas Pileggi and director James Mangold. Set in '60s Las Vegas, the fact-based drama will center around rodeo cowboy turned sheriff Lamb (Quaid) and his struggles with newly arrived mob boss Johnny Savino (Chiklis). O'Mara will play Lamb's younger brother Frank.
On the off chance that Terra Nova comes back, O'Mara is expected to leave the Ralph Lamb series to return to his previous gig. But man, if I were him, I think I'd hope to stick with the new job. [Deadline]
In stark contrast to the uncertain fate of Terra Nova, Starz has already renewed its '50s Miami drama Magic City for a ten-episode second season, days in advance of the first season's official premiere on April 6. It's not the first time the premium cable network has pulled such a move, as it also gave an early renewal to the Kelsey Grammer-starrer Boss back in September. Magic City's second season is expected to shoot this year for a 2013 launch.
In the meantime, those eager to find out just what's so special about the glam period series can check out a special preview of the first episode on March 30, after the season finale of Spartacus: Vengeance. [THR]
HBO has put up posters for two of its highly anticipated April debuts, Armando Iannucci's political satire Veep and Lena Dunham's Girls. It's not quite you-know-who's head on a spike, but they make an impression nonetheless. See them below:
[via Cinema Blend, The Playlist]
Frankly, that poster for Girls is terrible. All of the actresses look so Photoshopped they may as well be CG, though Dunham gets the worst of it, and (run-down studio apartment backdrop notwithstanding) they collectively look glam in a way that's totally at odds with the painfully, awkward realism we've gotten from the trailers so far. Fortunately, my enthusiasm for the series is such that not even this awful poster can dampen it. It received fantastic early reviews after its screening at this month's SXSW, and I look forward to checking it out on April 15.
The Veep poster looks much better, and I love the simple but effective slogan: "The buck stops somewhere near here." Iannucci's In the Loop was hilariously astute in its portrayal of British and American government, and what we've seen of Veep so far seems to capture that same tone. Plus, it's got Julia Louis-Dreyfus. While she's not as big now as she was in her Seinfeld days, she's still a very funny woman. Veep premieres April 22.